What is better a Wet Room or a Shower Enclosure?
Shower enclosures and wet rooms are incredibly popular shower styles. For anyone looking to add a contemporary touch to their bathroom suite, they are both excellent choices. Although often confused, they offer varying benefits for different types of
bathrooms.
Wet rooms are completely waterproofed rooms with walk-in shower panels and flooring levelled to a shallow gradient. This removes the need for a raised shower tray. Oppositely, shower enclosures are made of shower panels. These panels form a box around the tray. Generally, they have either a sliding or hinged door for entry. There are a variety of styles for shower enclosures, such as quadrant shower enclosures, square shower enclosures and frameless shower enclosures.
While enclosures are made in various designs and provide the look of a separate room, a wet room shower screen simply sections off an area of the bathroom. This means the rest of the room is protected from shower spray while maintaining an open-plan layout.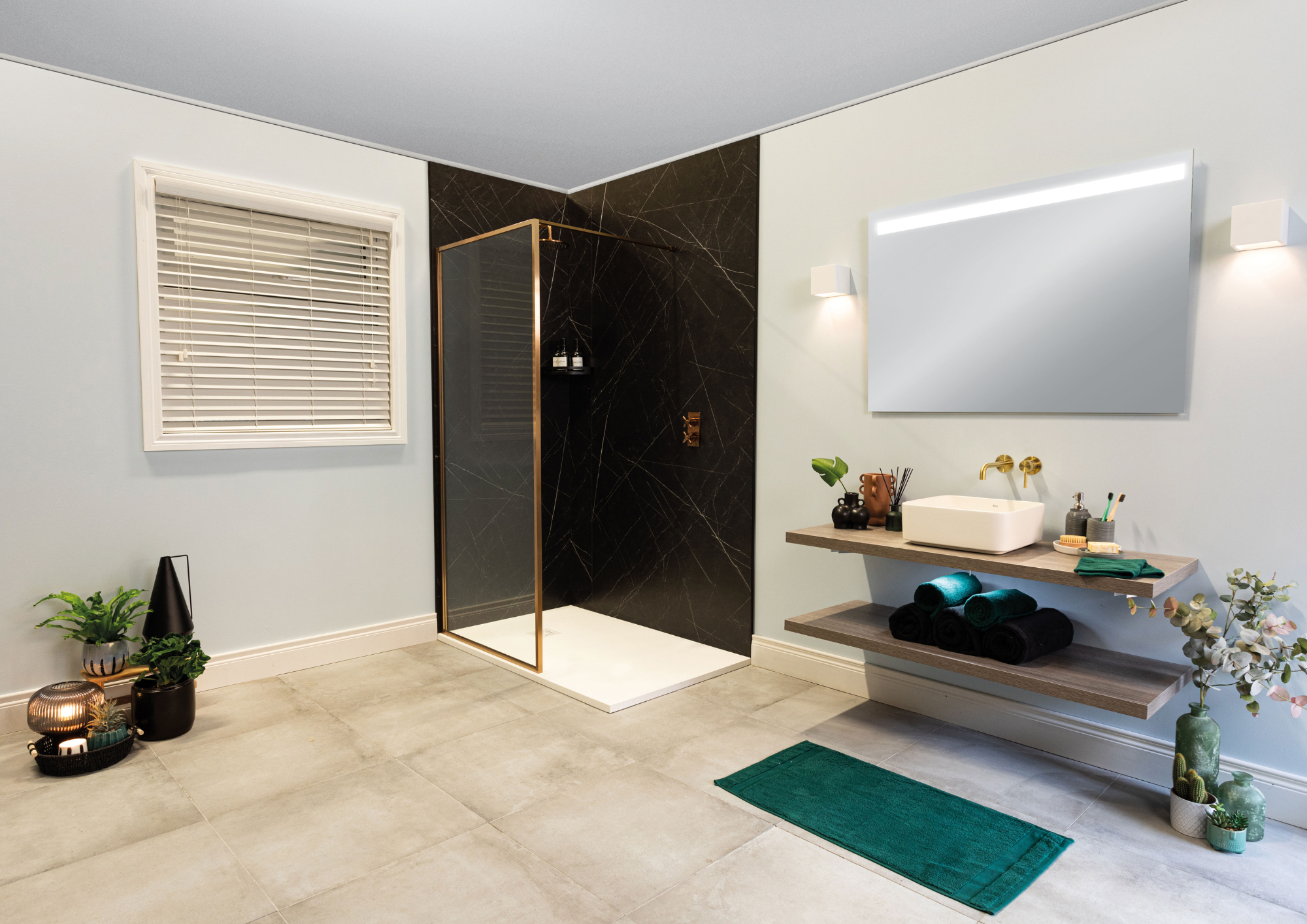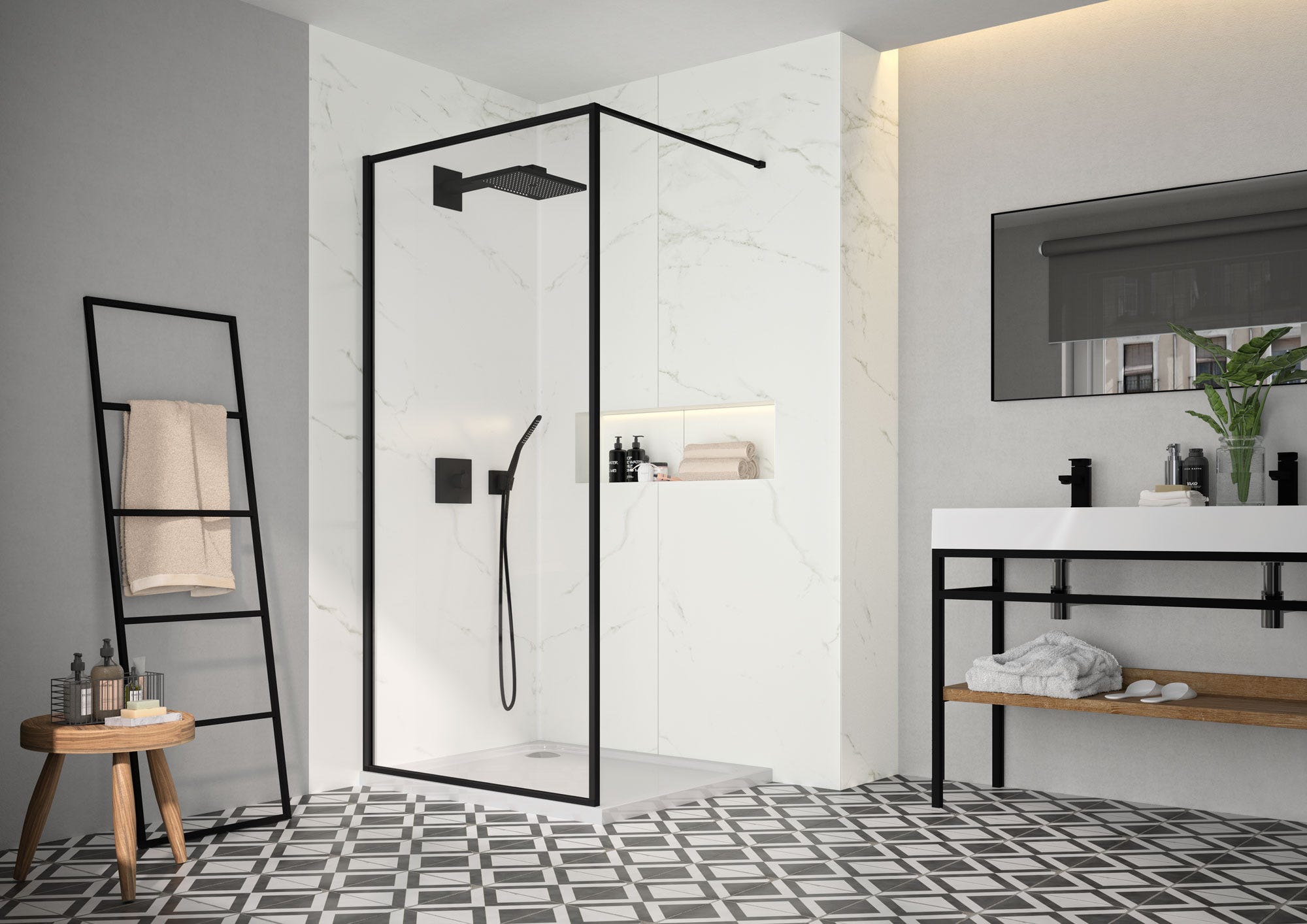 Advantages of Wet Room Screens vs Shower Enclosures

WET ROOM ADVANTAGES:
Easy access: Wet rooms provide an accessible and convenient showering experience for those with certain physical requirements or disabilities. Unlike traditional shower enclosures, wet rooms do not require any raised platforms or shower enclosure trays, making them ideal for anyone with limited motor skills, wheelchair users, or those with any other disability that inhibits their mobility. This easy access to the showering area makes it much more manageable for those with extra needs to safely and comfortably use the space. Wet rooms also provide additional space for support, allowing for more freedom of movement and greater options for safety handles and railings.
A true luxury feel: Wet rooms are characteristically beautiful bathroom features. The open-plan design and sophisticated floor-to-ceiling tiling exudes a level of contemporary luxury that is almost impossible to replicate with other bathroom suite styles. Additionally, the perceived value of a wet room feature can increase the sales price and attractiveness of your property. Thereby often being a worthwhile investment from a financial standpoint.
Wet rooms are very easy to clean: As wet rooms do not require shower trays and enclosure panels, they are far more convenient to clean than enclosure designs. Wet room panels are usually more simplistic without the need for excess parts such as hinges and handles, adding to the element of cleaning ease.
A space-efficient option: In terms of saving space in your bathroom, shower enclosures are bested by wet rooms as the walk-in design and lack of a bulky tray reduces the size of the necessary area needed for your shower unit. This allows for wet rooms to fit into smaller areas, as well as freeing up some of the design constraints which a more traditional enclosure shower would have to consider.
A dependable shower design: As wet rooms are designed to be fully waterproof; they're greatly protected from water damage and leakage. This means that wet rooms can last many years in great condition, if the construction is carried out by an experienced professional
SHOWER ENCLOSURE ADVANTAGES:
Shower enclosures are much more convenient to install: While shower enclosures generally only require the tray and panelling to be installed with correct plumbing, wet rooms require professional waterproofing to avert damages from water leaks which is a highly laborious and attentive task. Shower enclosure trays are considered to have a much more 'fit and forget' installation approach as trays are purpose designed for preventing leaks and water damage.
Shower enclosures are less costly to install and maintain: Wet rooms require additional installation fees such as extensive tiling, tanking and optional features such as heating systems. On top of this, if selected, certain types of tiling can require regular maintenance to keep their waterproof qualities.
Shower enclosures can be more attractive to certain home buyers than wet rooms: If you have a limited number of bathrooms and choose to install a wet room, in some cases, prospective home buyers may be less interested without the option of a shower and bath
Reduced risk of damaging certain bathroom items: As shower enclosures contain the shower unit in a panelled box, a greater amount of moisture and splashed water is kept within the enclosure space when compared to a wet room. This means there is a reduced likelihood for softer or weaker bathroom products such as toilet rolls and towels to become damp or damaged.
Potential for more innovative design: While wet rooms can create a unique contemporary feel, the generally minimalist panel design can lead to fewer creative options than shower enclosures which can come in a variety of interchangeable styles and shapes.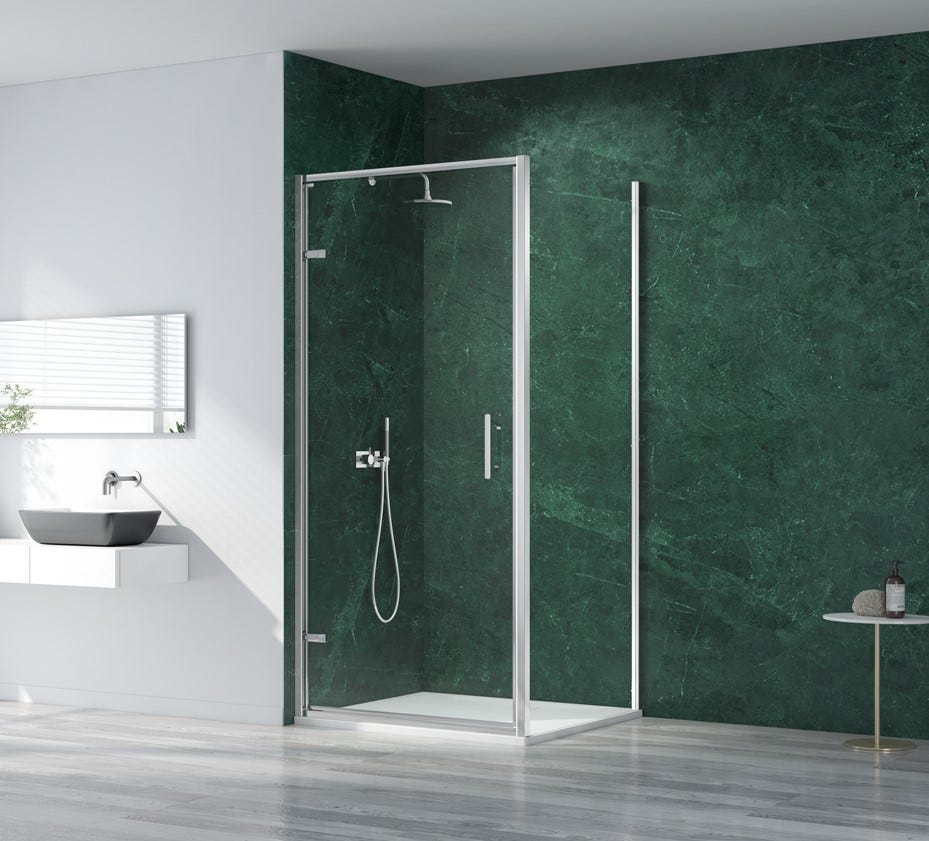 Both wet rooms and shower enclosures are amazing, tried and tested shower feature designs. Although, as discussed, both types have their benefits and the right choice for you will depend on your own vision for your bathroom. On the one hand, wet rooms are a great option to add a modern and luxurious style to your suite.
If you're drawn to a contemporary walk-in design and the accessibility benefits that come along with it, then a wet room may be for you. Alternatively, if an easier and cheaper installation process and a sectioned-off shower design are more to your taste, then a shower enclosure may be the best fit.
See our range of premium wet room panels here.
See our selection of premium shower enclosure panels here.