Cashel Palace Hotel – Regal Restoration Gets The Bespoke Treatment
About the project:
Built in 1732, Cashel Palace Hotel has recently undergone extensive renovation to bring back its previous splendor. Shower enclosures with a sophisticated aesthetic and simple lines were created along with specific widths and bespoke heights to the chrome Arysto Ten hinge and inline doors.
The Challenge:
Reopening its doors in March 2022, Cashel Palace Hotel has undergone extensive renovation to restore the architectural gem to its former glory. Built in 1732 the Palladian style manor, situated at the foot of the Rock of Cashel, originally served as home to Archbishops and is known to be one of Ireland's most beautiful period properties.

Tasked with sensitively modernising and extending the building while retaining its history, Smallwood Architects restored qualities that had been lost in previous renovations.
The resulting five-star hotel, which includes 61 bedrooms and an elegant spa, is designed to celebrate its heritage and offer guests an idyllic space for relaxation.
"We have a long-standing relationship with MERLYN. Their bespoke service ensured that each enclosure was a perfect fit, and we had their support every step of the way."

Dermot McKeon, owner of
The Solution:
The en-suite bathrooms and spa all required different size and designs of shower enclosure.
The MERLYN team worked closely with contract bathroom specialist, Waterloo Bathrooms to develop a variety of bespoke products.

Arysto Ten shower enclosures featuring toughened 10mm glass were installed throughout the hotel, with bigger hinges providing a stylish yet robust effect that can withstand constant use. To match
the minimalist style, horizontal handles and sandblast strips were selected, with bespoke notch cuts allowing enclosures to fit neatly around half-height walls. And reaching a height of 2.4m, the spa boasts one of MERLYN's highest bespoke shower installations, for an added sense of grandeur.

"We were delighted to be working with MERLYN again, a company that shares our passion for quality-driven renovations that protect and celebrate the rich heritage of a building".
Mulcahy Construction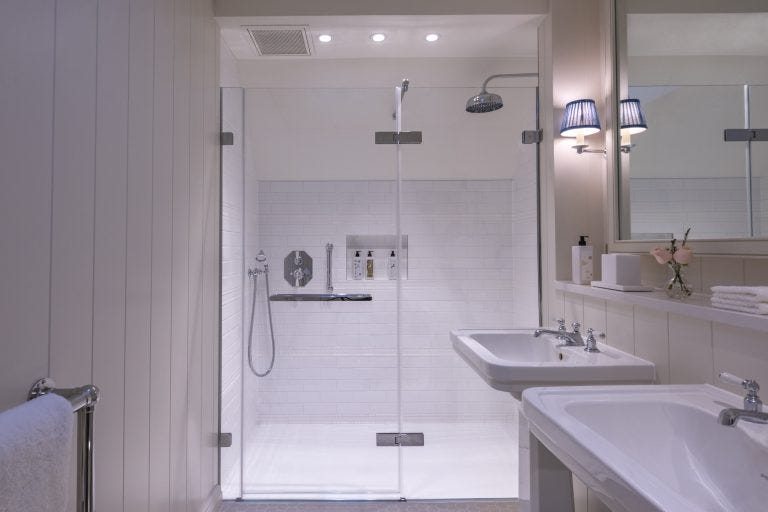 The Result:
Luxury design and clean lines combined to create subtle shower enclosures that complement the historical beauty of the space. For a seamless result throughout the hotel, all 70 chrome Arysto Ten hinge and inline doors were supplied in a 700mm width, for continuity, while incorporating bespoke heights and detailing.
MERLYN's Specification Team supports clients in the planning, design, installation and after-sales care on all projects, big and small. With large stock volumes and a bespoke design service,
our team is with you every step of the way to handpick and tailor the best solutions depending on your showering environment needs.

Contact us today: spec@merlyn.ie | 0808 101 1429