Innovative design and contemporary aesthetics
Bring your bathroom to life with modern bath screen shapes and features to enjoy for years to come.
With years of experience crafting the finest showering environments in the world, the MERLYN bathscreen collection has been created with the same superb materials and unrelenting attention to detail demonstrated across all MERLYN ranges.
But why choose a bath screen?
Bath screens are much easier to clean compared to shower curtains. You can learn the best ways to clean your shower screen here. Plus, a glass screen will create a sense of light to open up even the smallest bathroom. Find more ways to make a small bathroom look and feel bigger in our shower enclosure buying guide.
MERLYN now have over 20 styles of bath screen to choose from with:
10mm, 5 - 108mm, 6mm and 5mm glass (MB12) options
Lifetime Guarantee
Mershield Stayclear Glass options
180 degree inwards swing
Space saving solutions
MERLYN Bath Screen Favourites
MB2: Single Square Bath Screen
With a fresh angular design and contemporary look, the Single Square Bath Screen gives a sense of space to your in-bath showering experience. Boasting frameless glass and concealed fixings, this bath shower screen is an unassuming feature in any bathroom.
This bath screen also comes with a NEW Easy-Fit option – a hassle free solution to changing an old or tired looking bath screen. The unique patent pending, easy fit mechanism means you can replace a bath shower screen without the need to drill new holes into the bathroom wall. Read more about Easy-Fit.
MB2 can also be fitted with an optional towel rail for extra convenience.
Client image provided by The Bromley Bathroom Company.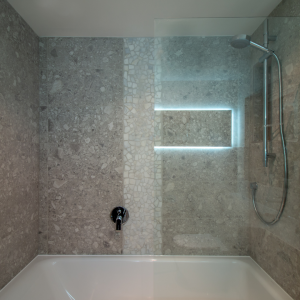 MERLYN Black 2 Panel Hinged Bathscreen
The MERLYN 2 Panel Hinged Black Bath Screen stylishly compliments the multi-functional bathroom, hence adding a touch of class and keeping your bathroom on trend. This matt black hinged bath screen symbolises style and elegance creating a beautiful silhouette feature in your bathroom.
Did you know? …This black frame bath screen colour is not applied to the surface like paint or plating, but is fully integrated with the underlying aluminium substrate, so it cannot chip or peel.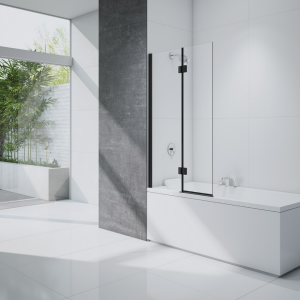 Arysto Colour Brushed Brass Bathscreen
Brushed Brass is sassy and sophisticated, you are investing in a timeless look celebrating individuality. Our Single Hinged Bathscreen is both elegant and functional. It is made using 10mm glass which is coated with MerShield StayClear glass protection and also come with a lifetime guarantee.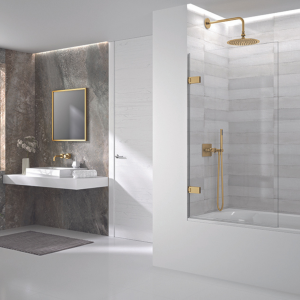 Why choose a folding bath screen?
At 1400mm wide, this folding bath screen extends to cover the whole of your bath's showering area. This bathscreen is also 1500mm tall, making it perfect for larger bathrooms or bathrooms with high ceilings. This 3 panel hinged folding bath screen is also fully reversible, so the bathscreen can be installed at either end of your bath. The useful folding action ensures that the 3 safety glass panels of the bath screen can be neatly folded away flush to wall when not in use.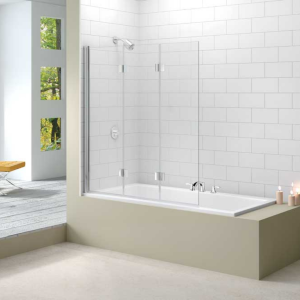 Bespoke Bathscreens
If you still have not found the bathscreen for you, MERLYN also offer a bespoke service.
Beautifully crafted and built precisely to the measurements of your bathroom, a MERLYN Bespoke Bath Screen is tailored precisely for your needs. Choose from a range of superb quality bath shower screens coated in Mershield StayClear as standard to ensure easy cleaning everytime. Our bespoke shower screens can be cut to to almost any shower cubicle shape or size to fit any awkward or unique showering space. Our bespoke shower screens can create a perfect showering experience in your home.
Our bespoke team have a team of highly skilled and experienced professionals who are trained to survey walls and floors for varying slopes and angles, look for 'out of true' walls and to assess that your choice of bath shower screen and positioning is correct.
Find a Showroom
Your nearest MERLYN retailer is just one click away. Meet a MERLYN product expert in-store to chat through your options and start creating your dream bathroom, your way.
• Find your closest MERLYN stockist
• Explore our shower enclosure ranges and styles
• Discover MERLYN shower trays
• See and feel our products
• Chat with a dedicated MERLYN partner and discuss your design options
• We can work with you to create a bespoke 3D design
For more information on bath screens
We've put together a buying guide to help you find the right screen for your shower bath.
As experts in all types of shower enclosures, let us guide you through the different types of bath screens and what you need to consider before buying.