Meet Paton of Walton
Paton of Walton is a family run business established in 1975 by Lorraine and Patrick Bennett. Four decades later the business is still in family hands with sons Stephen and Dan. Located in the same premises since its opening, the business has grown substantially, expanding its ranges and product offering. Described as an Aladdin's cave, the traditional plumbers merchants supply everything from tap washers to full bathroom suites, servicing DIY consumers, trade and large contractors.
Paton of Walton – Stephen Bennett (Sales)
Follow them on: Instagram @patonofwaltonltd
Location: 131 Cottimore Lane, Walton on Thames, KT12 2BN
Tell us a little about your showroom? What can customers expect when they visit?
If you're looking for all things bathroom, all in one place, then our showroom is the place to go. We're proud to have the oldest independent showroom in the Walton on thames - expect a warm, family greeting with the added bonus of over 30 years experience and exceptional product knowledge to guide you every step of the way.
What do you have on display for customers to see?
We understand that every bathroom is different, with each customer requiring different product types, price ranges and styles. That's why we've developed a showroom that caters for all. We display some of the top bathroom brands in the industry, including MERLYN Arysto, MERLYN Black revo, IQ, and Ionic, allowing customers to see, touch and feel high-quality products before making decisions.
Favourite MERLYN shower?
What is your USP?
We pride ourselves on our product knowledge which allows us to provide customers with the best possible service. As a family business, we're committed to continuously learning about the industry, we stay on top of the trends and can use this in-depth knowledge to help customers find the best products for their needs. We have a large number of returning customers, which is something we are particularly proud about, we believe that it's our extensive knowledge and strong after-sales service that keeps people coming back.
How do you choose which products to stock and which brands to work with?
When selecting brands for our portfolio, innovative and premium-quality products are the things we look out for. And we expect our partners to deliver the same exceptional standards of service and delivery. Our reputation as a reliable supplier of bathroom products is something that we can't risk, so it's really important that when we sell to a customer the stock can be delivered as promised from the supplier. This is why we work with brands like MERLYN - they are fantastic for stock availability and their after-sales service is second to none. The company's technical team is super and our regional sales manager, Daniel Gold, has been fantastic to work with.
How long have you been working with MERLYN? Why did you choose to stock their ranges?
We've been partnered with MERLYN for the past two years, since we extended our product offering. We wanted to introduce quality, premium products into our store and the Arysto range does just that. The innovation that comes with Arysto makes it a great addition to our portfolio and as a supplier, we enjoy the protection we get from the product being exclusive to retail.
What are the most popular MERLYN products you sell?
We enjoy the variety of products that MERLYN supply, as our customer requirements can be extremely varied. Currently we sell products from the extensive Series range, the IQ range, a selection of shower trays, and the premium Arysto range.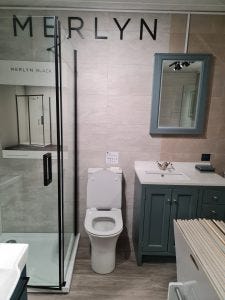 Looking ahead, what does the future hold for your showroom / store? Anything new customers can expect?
We've been working out of the same location for over 40 years and look forward to continued success, showcasing our knowledge and expertise to customers and delivering first class solutions at this store. As we continue to expand our product offering, we'd love to open further showrooms, extending our reach to even more customers. Ultimately, showrooms like ours aren't going anywhere, customers will always want to see and touch the premium products that we supply and enjoy a personalised experience before purchasing.
What are the key trends and designs you are seeing for bathrooms in 2021?
We have noticed that people are certainly designing their bathroom for the long-term and investing in higher quality products. When they see a top quality product on display, they can envision it in their bathroom and know that it will stand the test of time. When designing for the future, customers are also more aware of how their needs may change as we age. Families are looking to invest in bathroom accessories that can adapt as they grow and people are more conscious of getting older and the additional support requirements that this can bring.