Bathrooms are evolving to become one of the most important rooms in the home – a place to refresh, take a breather, and reset your wellness...And the shower enclosure is fast becoming the focal point of the bathroom.
MERLYN recently undertook research which shows the majority of participants bought the shower first (66%) and designed their bathroom around it, making it the centrepiece of the bathroom.
Buying a shower enclosure can be overwhelming, from the type of shower enclosure, to the style of shower door, whether to go framed or frameless, even down to your shower colour.
To help you navigate through the many choices, MERLYN have put together a handy checklist for buying a shower enclosure.
In this blog, we will look at:
Planning for your Bathroom
Shower Shapes
Shower Door Types
Types of Glass
Colour Finishes
Choosing a Shower Tray (if needed)
Optional Accessories – Support Rails or Storage
Planning for your Bathroom
Whether a family bathroom, ensuite or wet room, bathroom status has been raised. Bathrooms are now a sanctuary within the home, a place for relaxation and pampering.
Before you start looking at shower enclosures, you need to take a look at your bathroom space and assess the needs of the space.
Who will be using the bathroom?
Is storage important?
Is safety important?
Will you have a shower and a bath, or do you need to choose?
You need to forget how you currently use your bathroom, and think about how you would like to use it in the future.
Many MERLYN stockists provide design advice and even off a 3D design service, to help you plan your dream bathroom, inspire you and even advise you on the latest products and innovations in the bathroom world!
Shower Shapes and Doors
Once you have decided on your bathroom plan, you can get down to choosing the main pieces, such as your shower enclosure.
Where you want to place your shower may dictate the type of shower enclosures you can choose from. If your shower will be in the corner or in a recess this will impact on the type of shower tray and the type of enclosure door you require. If you are fitting a recessed shower, you may only need a shower door, rather than a full enclosure (pivot or sliding shower doors work well in a recess).
Shower Shapes:
Corner showers are the most common design, allowing a lot of freedom in terms of size and shape (square or rectangular).
Recessed showers are less common, but can be a great space saver if there is a niche/alcove already within a room. The shower would be enclosed by walls on three sides, and have a shower door to gate the opening.
Quadrant showers are another popular design choice. The eye catching shape has always been a go to for designers. Quadrants typically feature a sliding door.
Shower Door Types:
Hinge and Inline Shower Door
A hinged shower door is a glass panel that opens by swinging in one direction on pivoting hinges. Hinged shower doors are simple to use and look great in contemporary bathrooms. Our Arysto Colour collection features stunning Hinge and Inline shower doors and enclosures that are minimally styled, to maintain a light, open and airy feel. This combined with the Brushed Brass, Matt Black or Stainless Steel finishes make these doors a true showstopper.
Hinged doors can be used for full shower enclosures, in a recess or as a bath screen.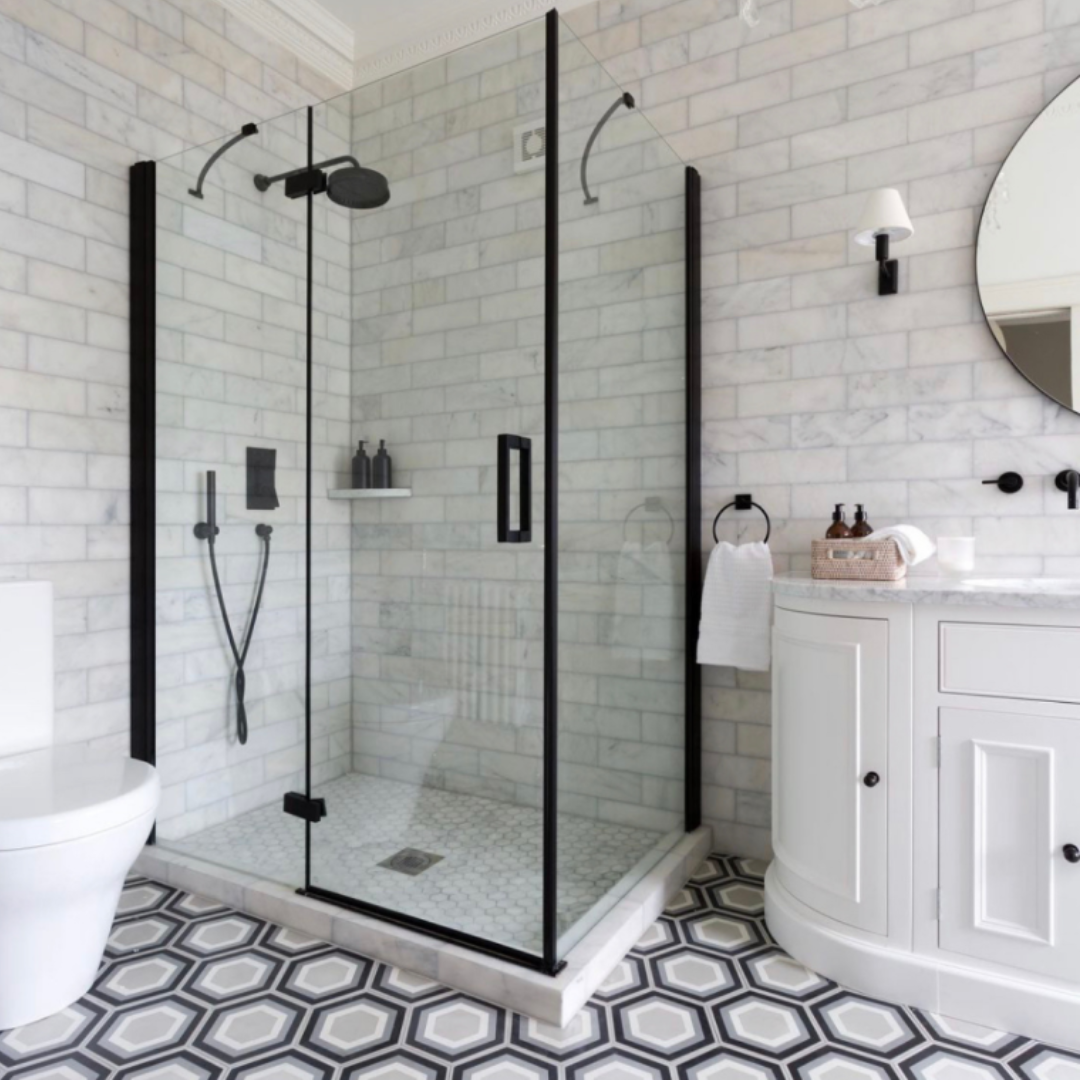 Sliding Shower Door
Sliding door shower enclosures are ideal for saving space in any bathroom and are easy to use, so getting in and out of the shower is effortless. A frameless sliding shower door such as our Arysto X Sliding Shower Door with luxury, 10mm clear glass is perfect for those looking for a minimal finish. Sliding doors can be used in a recess, an enclosure, or even as a walk-in.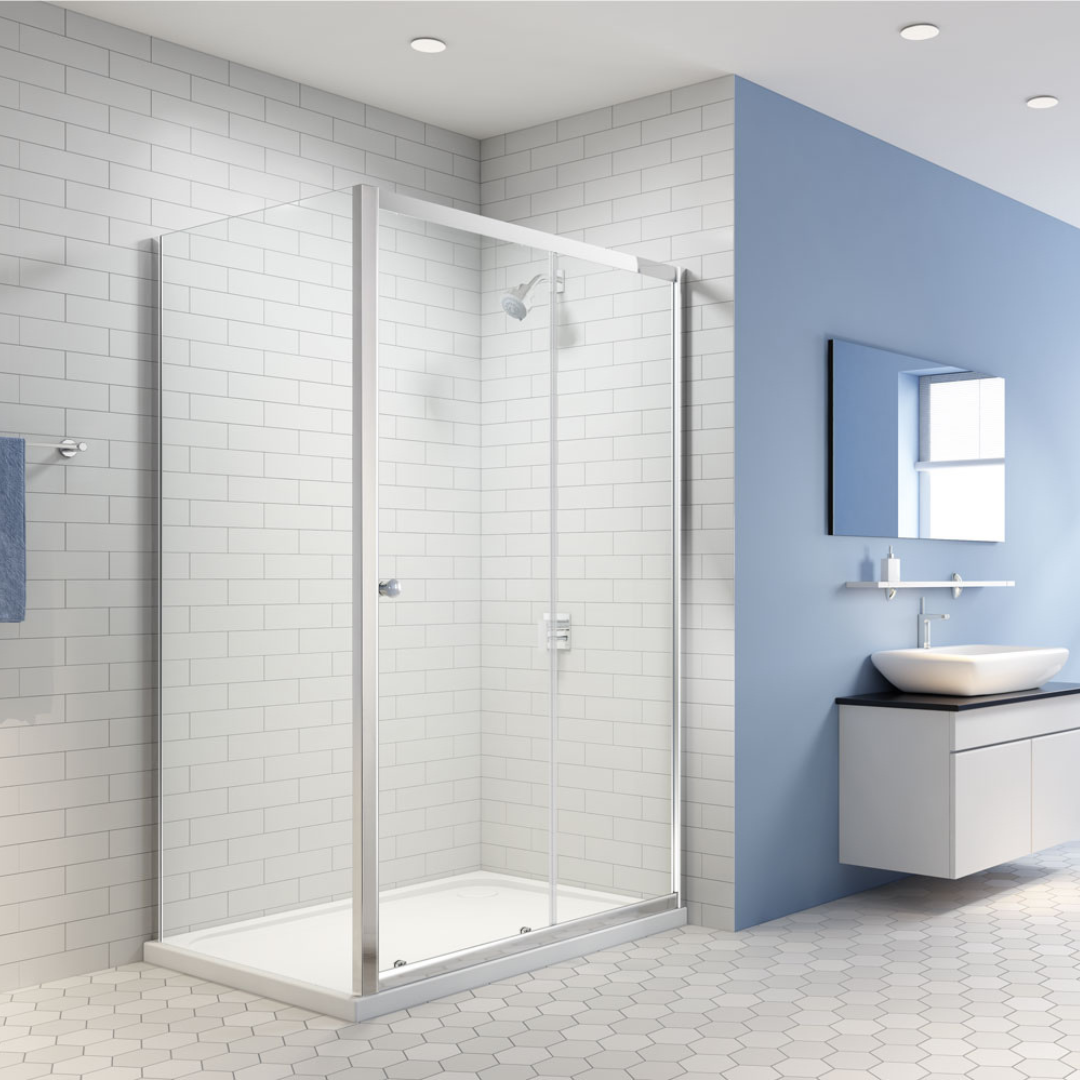 Pivot Shower Door
Pivot shower doors are probably the most common type of shower door available. A pivot shower door is a swinging door that has a pivot hinge allowing the door to open in either direction. Pivot doors are very versatile and can be made to fit almost any bathroom space. This space saving shower enclosure makes shower cleaning even easier too as the shower doors open inwards and outwards.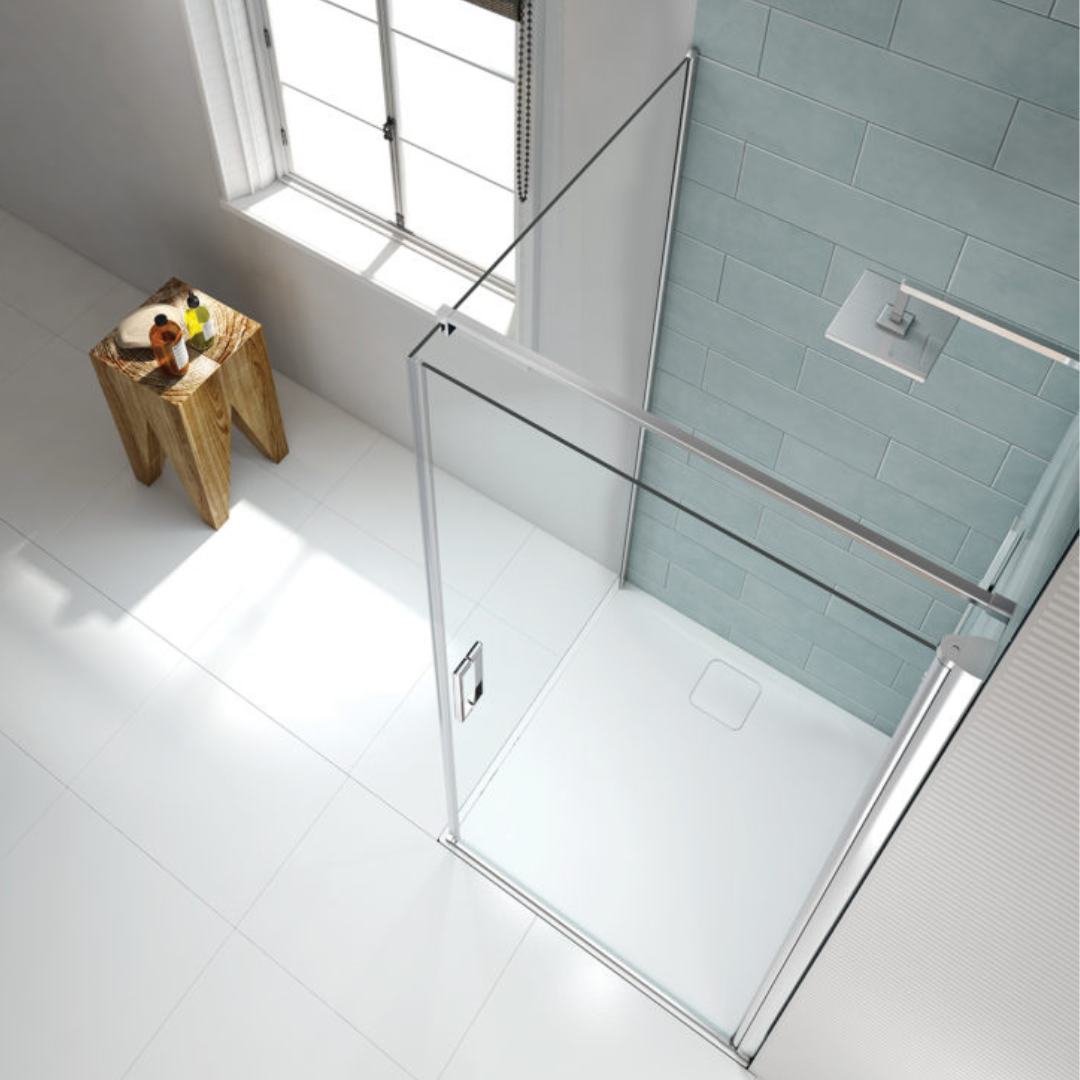 Bifold Shower Door
Bi-fold shower door enclosures are good space saving options, as the doors collapse—so there's less space needed for them to open out.
Where space is at a premium the new 6 Series Bifold is the ultimate solution – extremely functional with a stunning smooth gliding minimalist shower door. The Merlyn design team have transformed this Bifold door with the use of a discreet bifold hinge giving it a much sleeker finish.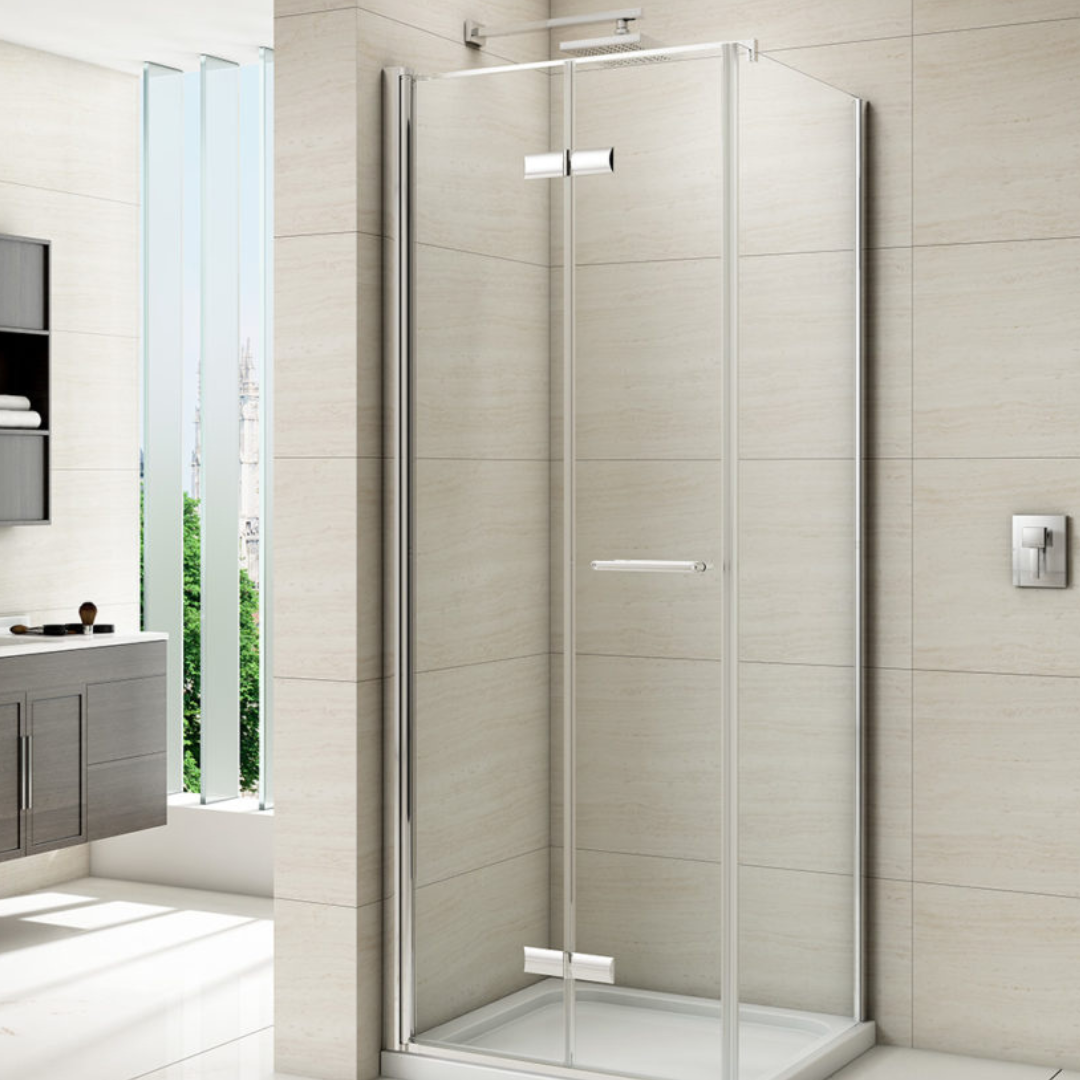 Wet Rooms and Walk In Showers
Bi-fold shower door enclosures are good space saving options, as the doors collapse—so there's less space needed for them to open out.
Where space is at a premium the new 6 Series Bifold is the ultimate solution – extremely functional with a stunning smooth gliding minimalist shower door. The Merlyn design team have transformed this Bifold door with the use of a discreet bifold hinge giving it a much sleeker finish.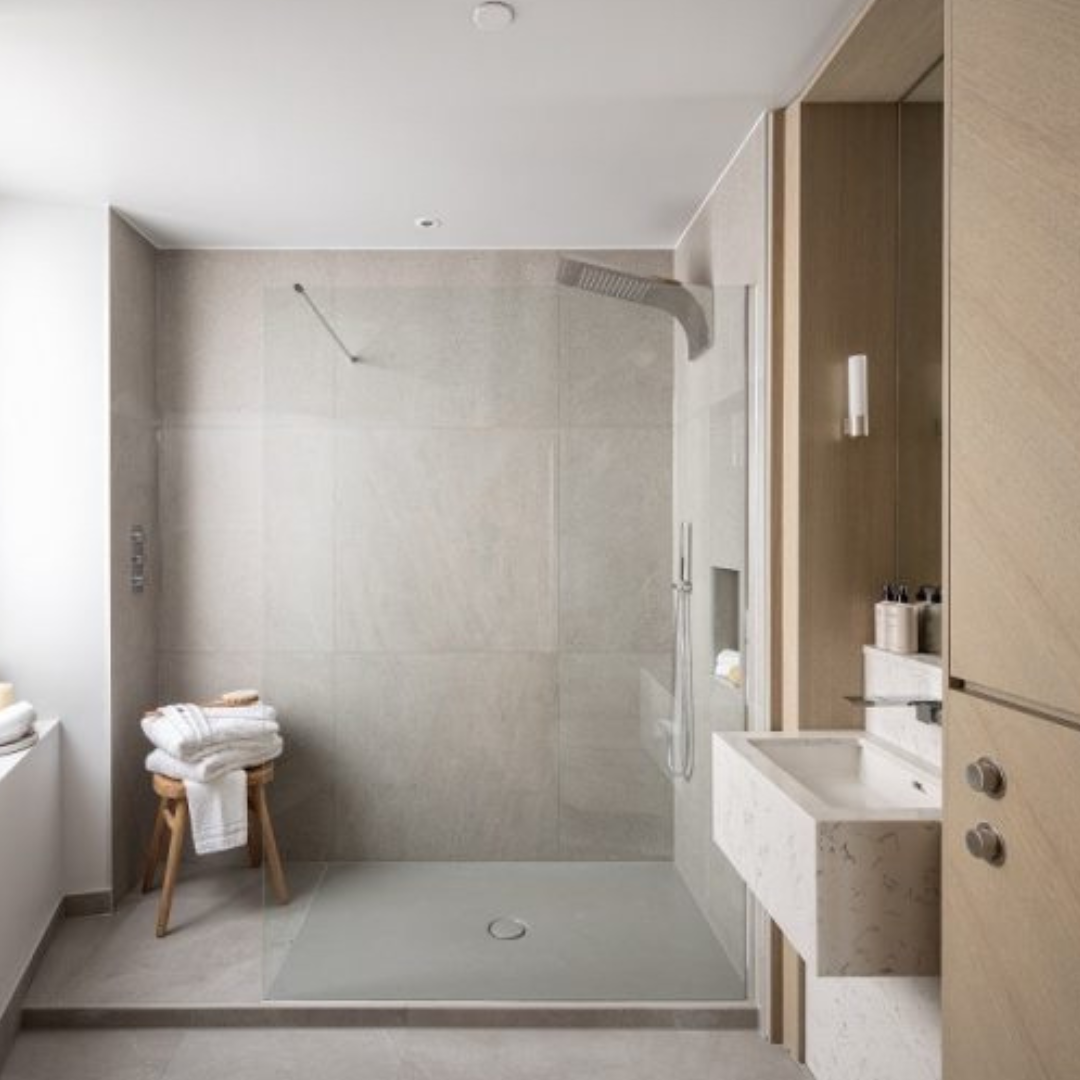 Framed vs Frameless?
Another common debate is whether to go framed or frameless with your shower enclosure.
Frameless showers have a minimalist, designer feel and are the perfect complement for both contemporary and modern styled bathrooms. Frameless showers with their discreet aesthetic can help to make a bathroom seem bigger. MERLYN's Arysto Eight collection reflects ambient light reducing the visual impact of the shower door. With every detail carefully designed within this shower screen range – many of the standard design features have been redeveloped - you are ensured a perfect design and showering experience.
Framed showers have had a resurgence in recent times with the popular trend for all things industrial. MERLYN's Black framed shower wall collection is minimal but striking, coming in both an industrial squared design or a simple framed design, both of which can transform any bathroom space.
Types of Shower Glass
You know that you need glass in your shower door, but choosing the right type can be a minefield.
Shower glass is measured in millimetres, with the most common sizing being 6mm, 8mm or 10mm glass.
8mm or 10mm glass is highly durable, long-lasting, safe and also easy to clean – these glass thicknesses are premium quality. 8mm glass is indulgent, thick – but also affordable. 10mm glass is designer-lead, luxurious and on the upper end of the price scale.
Our Series 8 Collection features both Framed and Frameless showering options to meet the needs of both contemporary and modern styled bathrooms.
Our outstanding Arysto Ten range has been expertly crafted to guarantee you the ultimate showering experience. Prepare to fall in love with its smooth flowing curves, crisp contemporary lines and flawless, frameless details. Discover the Arysto Ten exquisite design options.
6mm glass is a great alternative to 8mm or 10mm glass where cost is a factor – these thinner glass panels are beautiful, very versatile, and of course – safe! Check out our Arysto Six range for some beautiful and minimal 6mm glass shower options.
Toughened safety glass is always a good choice for a wet room or shower enclosure - all MERLYN product components have to withstand several endurance tests, meaning they are the safest choice for your family.
Depending on the shape of your shower enclosure design, the size of glass panel needed or the more curved it is, you may be limited in terms of the glass thickness options (The MERLYN technical team are always happy to help with advice here)
Glass with an easy clean coating – such as MERLYN Mershield - helps reduce the build-up of soapscum, watermarks and limescale. We treat all shower enclosure glass in our ranges with a special protective coating to ensure the glass maintains its sparkle.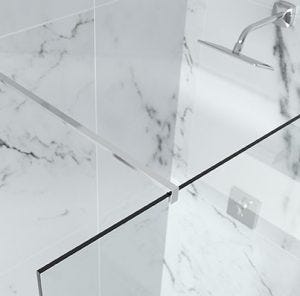 The thickness of the shower glass is an aesthetic and physical feature – thicker glass is visually more appealing compared with thinner glass products. In addition, the thicker (and therefore heavier) the glass is, the better the feeling as the glass moves – for example when you open and shut the door panel of the shower enclosure, a thicker glass panel gives an impression of 'better' quality.
If clear glass isn't for you, MERLYN also offer a smoked glass in some of our ranges, such as the MERLYN 10 Series sliding door.
Colour Shower Finishes
Colour, natural finishes are now a popular feature in many luxury bathrooms.
Discover Brushed Brass: Sassy, elegant and sophisticated. This colour works in both contemporary and conventional style bathrooms and can be matched with other brassware finishes like taps and accessories.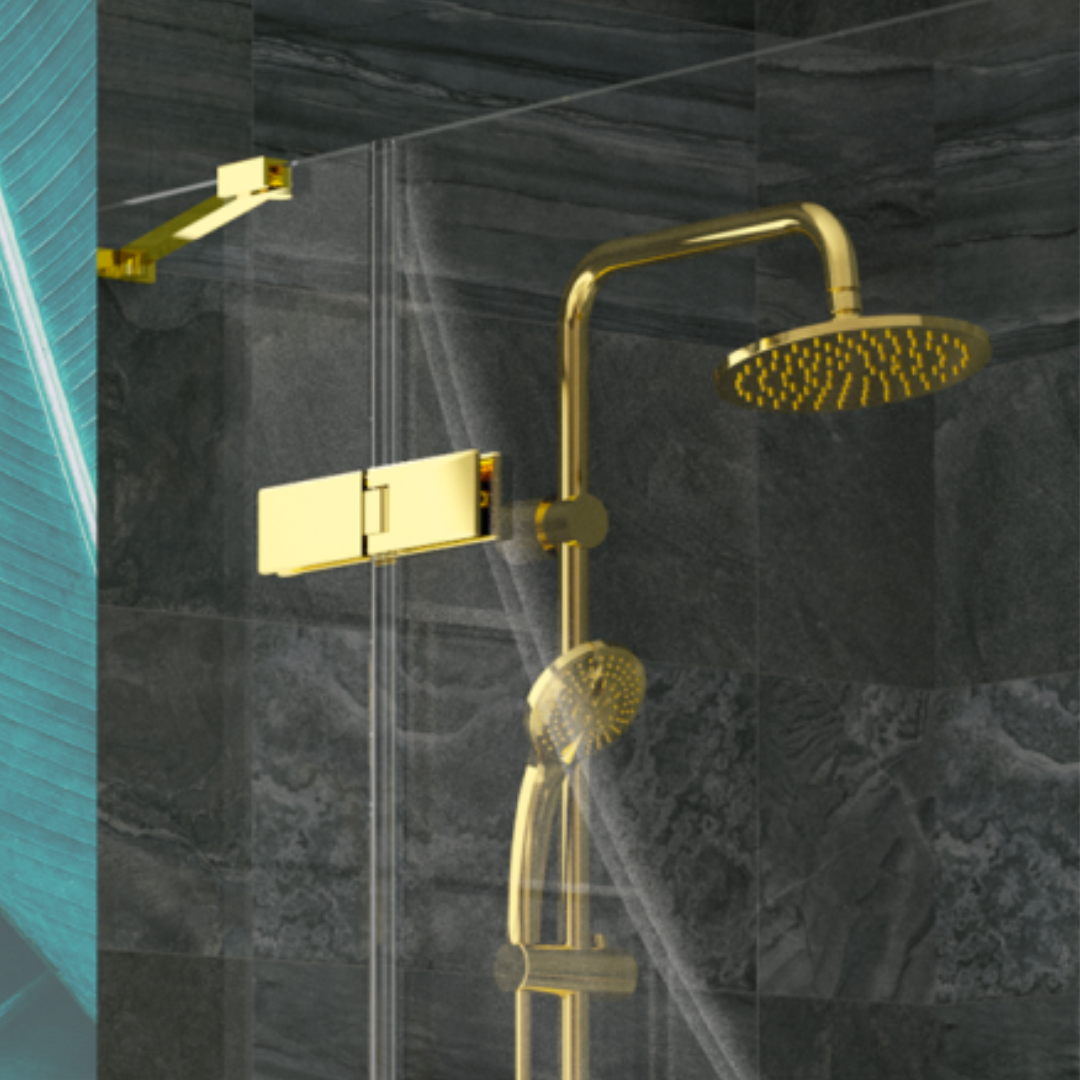 The Future is Stainless Steel: Steel gives you the industrial design yet flawless finish exposing all the features of the elements around you, contemporary and stylish, stainless steel is a beautiful finish.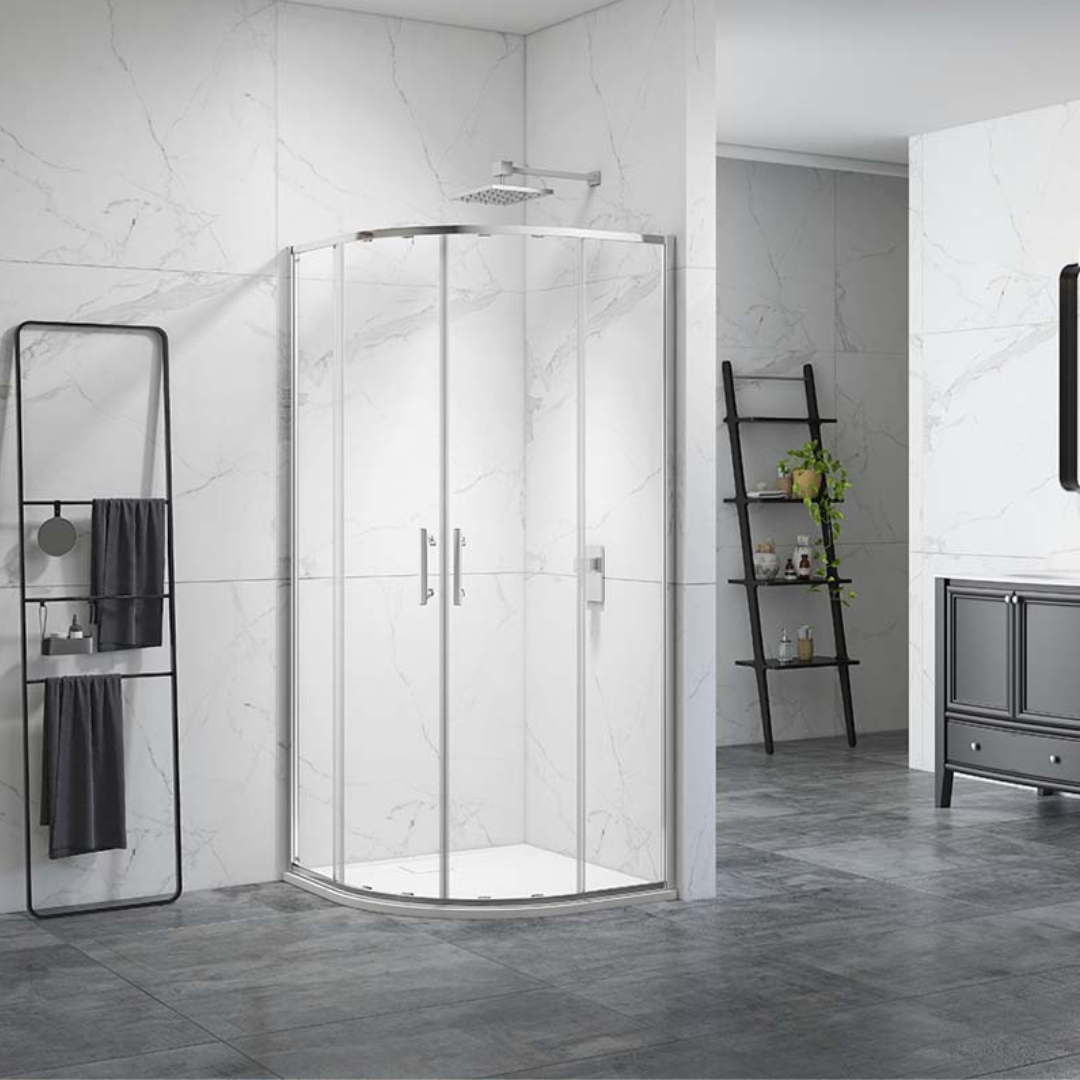 Matt Black offers you a striking option to complement and contrast your bathroom space, adding a touch of class to any bathroom. MERLYN's minimalist and sleek black profile comes in a sliding door option, a hinge and inline option and a stylish showerwall. There is also a MERLYN Black Bathscreen for multi-functional bathrooms.
Did you know? …The black colour layer in the MERLYN Black range is not applied to the surface like paint or plating, but is fully integrated with the underlying aluminium substrate, so it cannot chip or peel.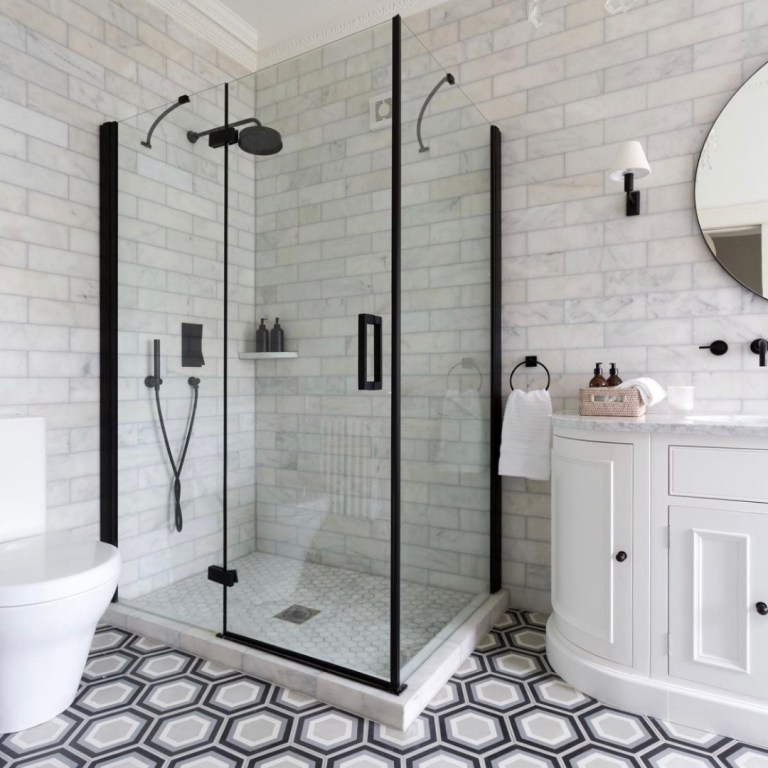 Empowering, regal, a true statement. Brushed Bronze is a lavish and opulent centrepiece. Just like the lion, king of it's surroundings. Unrivalled and respected. Brushed Bronze a grand and luxurious addition to any bathroom.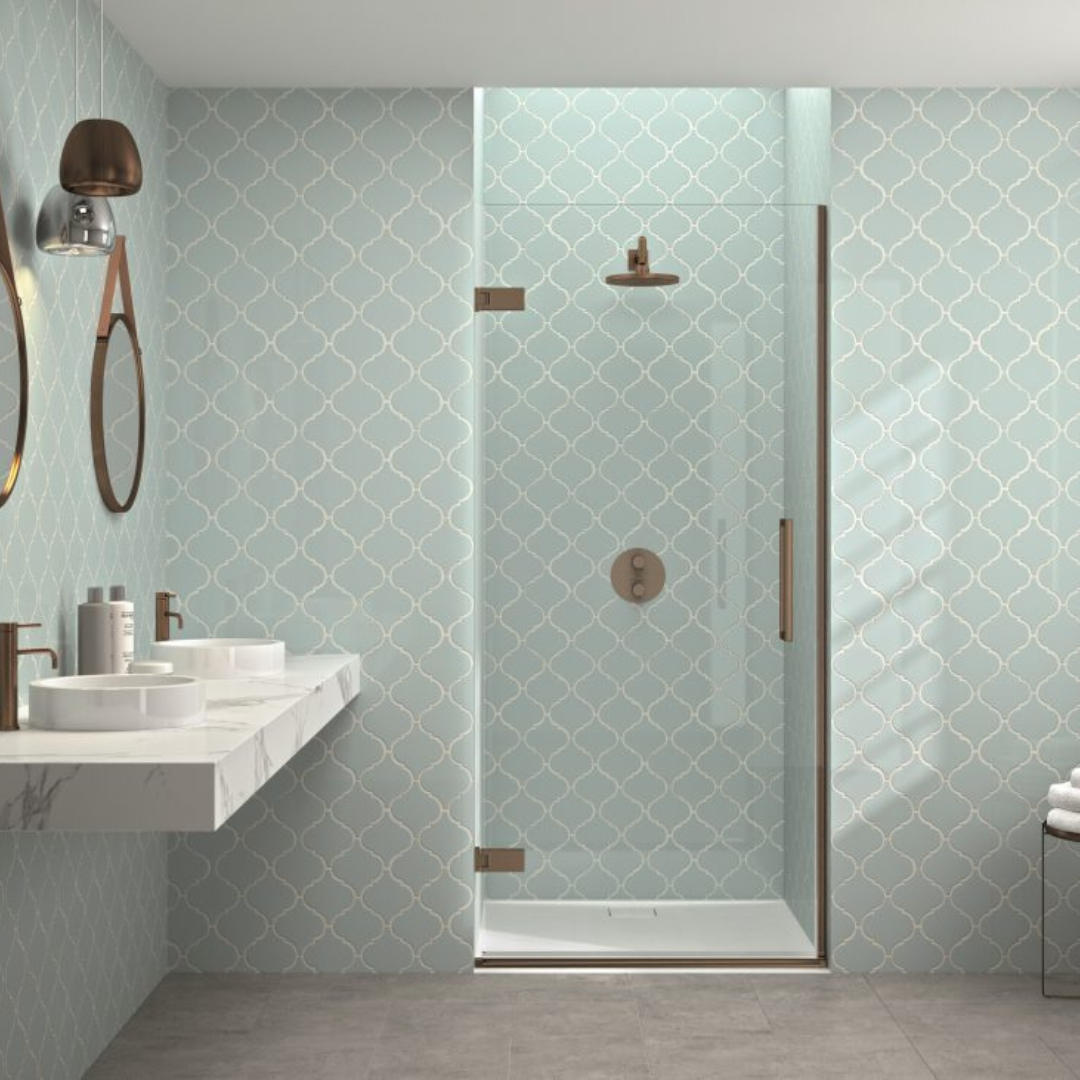 Choosing a Shower Tray (if needed)
You can install a wetroom without a shower tray, which does give more flexibility in terms of layout. However, for most showering environments, a shower tray is needed.
MERLYN know that no two people are the same, that is why we have developed 5 unique shower tray ranges to meet your needs, from natural slate trays, low level trays to slip resistant shower trays for those with younger children, or future proofing for later life.
Beautifully sculpted shower trays, angled and contoured to match all enclosures and spaces, can achieve the perfect combination of luxury, elegance and durability.
MERLYN manufacture the following shower tray ranges:
Truestone Luxury Slate Trays: beautifully crafted ultra-low slate shower trays are elegant in appearance and luxurious to touch. With five finishes to choose from – White, Black, Fossil Grey, Graphite and Sandstone, these shower trays bring an element of natural beauty and a truly designer finish to your bathroom.
Level25 Trays: stunning new contemporary low level 25mm trays, Level 25 is the ultimate in minimalist chic. Sleek and ultra slim, it creates a modern feel for any bathroom.
MStone: Double Skinned Trays: double skinned so they are extra strong and with a sleek designer look, perfect for any bathrooms.
TouchStone: Single Skinned Trays: with a massive 47 Sizes to choose from, our Touchstone shower trays are also capped with an easy to clean shower tray surface, providing a chemical resistant and an anti-bacterial solution, due to it's ultra-smooth, non-porous surface.
Merlyn Upstand Trays: for increased water retention situations, an upstand provides a seamless transition between the shower enclosure and the tile to prevent water from getting behind the tile and the shower tray.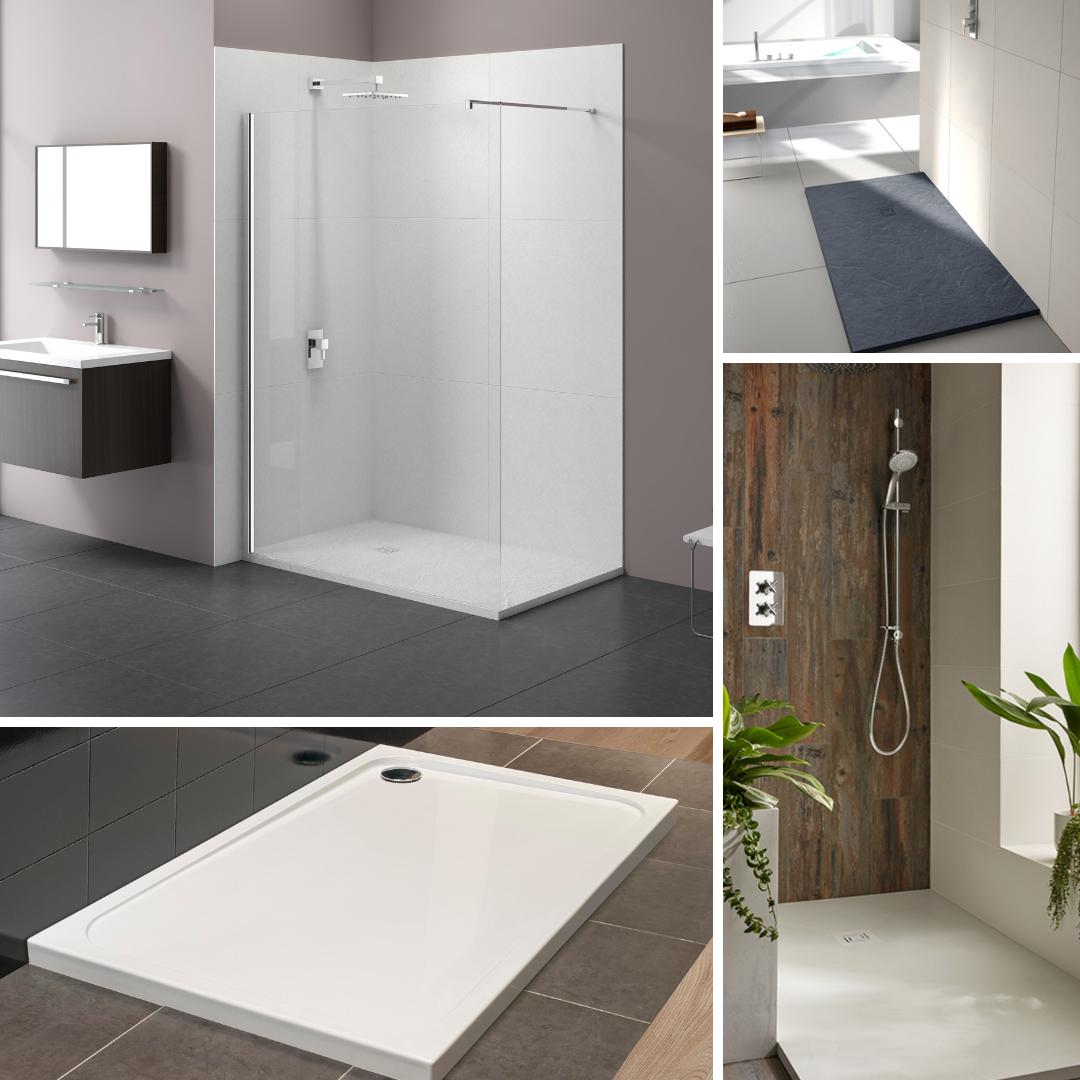 Slip Resistant Shower Trays:
Shower in the safest environment, without compromising on style. Many consumers are now opting for slip resistant shower trays to keep their family safe – from young children learning to shower, to older relatives – slip resistant shower trays give an added layer of comfort.
Tested extensively to give you and your family peace of mind, our Touchstone and Level25 Slip Resistant shower trays have reached a SRV (Slip Resistance Values) in wet conditions greater than the required 36 mark, and Class C for DIN 51097 in the barefoot ramp test. This ranks our slip resistant shower trays in the premium class.
Optional Accessories – Support Rails or Storage
Your bathroom should be a safe, stable place for both young and old, suitable for an ever-changing life. Having ample storage in your shower, can keep the area clutter free, and reduce the risk of slips or falls. In addition fitting a support rail when designing your bathroom, can prolong the bathrooms life-span, and make sure your family is ready for any life changes such as pregnancy, injury or old age.
In response to consumer demand, MERLYN developed revo, a luxury shower safety and storage system. Revo bathroom accessories are the result of two careful years of customer research, product development and precision engineering.
The MERLYN revo bathroom rail and accessories reduce clutter in your bathroom whilst giving you the safety, adaptability, independence and storage your home requires.
Revo answers your call for a premium storage and safety system to address the real needs of a growing and changing family. The multi-functional shower system is finished to the same luxury design standards as our Arysto collection.
The revo rail can be configured to suit your family's needs, present and future in multiple ways. All in a stylish, easy-to-clean package.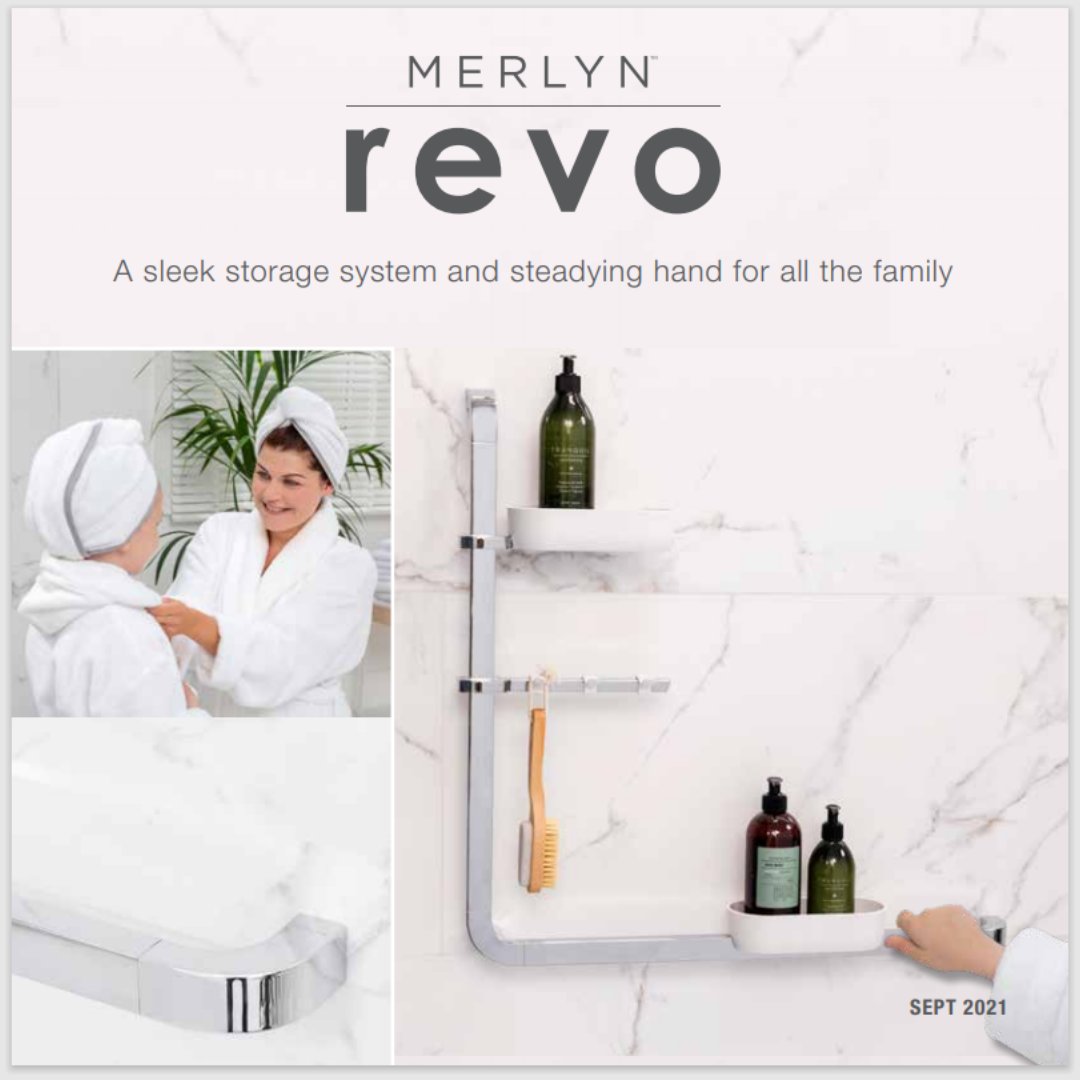 Next Steps
Now that you know what options are available, find out where your nearest MERLYN stockist is to view these beautiful shower options in person.
Our showroom network is full of design and style guidance, and they will be happy to join you in planning your new or renovated small bathroom design!
Click here to find your nearest MERLYN stockist.
Make sure to tag us in your finished bathroom photos to feature on our social channels.
#MyMERLYN