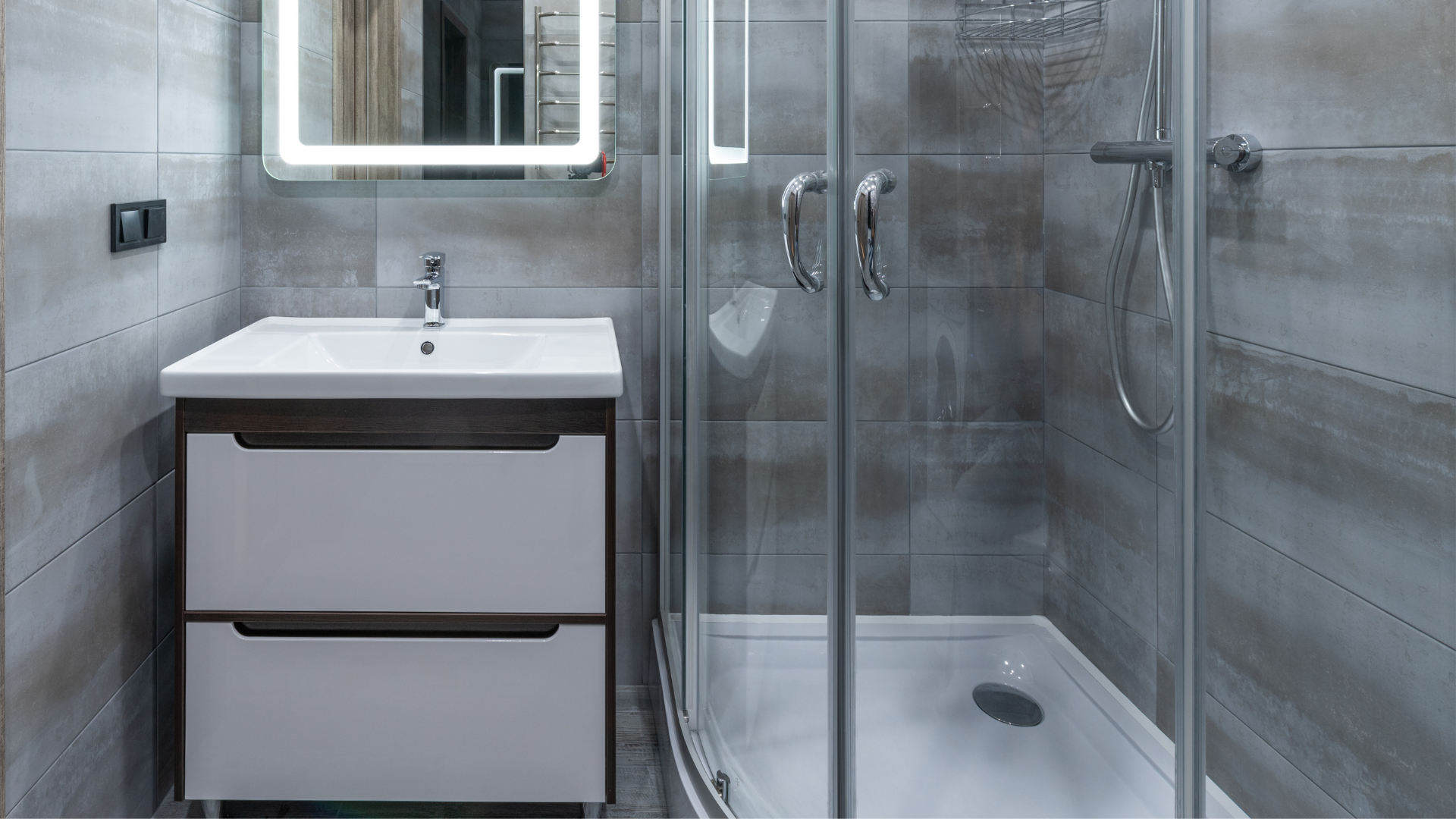 Stone resin shower trays are known for their superior stain resistance and cleaning ease. This article gives you instructions on how to properly clean and maintain your stone resin shower tray.
Cleaning your shower is a top concern and a commonly asked question by many. Not only do we want to keep our showers as clean as possible, but we also want to make sure our bathrooms are as hygienic as they can be, since they are especially vulnerable to mould and bacteria.
Whatever your chosen Merlyn stone resin shower tray size or style, you can trust in its high durability and routine cleaning ease.
How do you clean a stone resin shower tray on a routine schedule?
Rinse with water after use and make sure the bathroom is properly ventilated.
To routinely clean the stone resin shower tray, the best options to use are soapy water, and soft cloths, or non-absorbent sponges. Avoid the use of scourers or abrasive cloths, as they may cause damage to the shower tray's surface. You should not use cleaning products as these can be classified as corrosive.
It is also recommended that the shower tray grille is cleaned on a regular basis to prevent the accumulation of soap or limescale. To do so, the grille should be removed and cleaned with soapy water.
If you or your family members use hair dye, it's important to briefly clean and rinse the shower tray with soap and water after each shower.
How to get rid of limescale on your shower tray
While routine cleaning massively reduces the chance of grime and limescale buildups, it isn't always possible to avoid. Limescale can be easily removed from your shower tray with timeless homemade methods such as the following:
Put some white vinegar or lemon juice on a cloth and scrub until the surface is clean.
For harder limescale stains, you can mix 1/5 of vinegar or lemon juice with 4/5 of water and spray it on the shower tray. Let it sit for an hour at most to get rid of any tenacious scale deposits. After the limescale has been well soaked, polish the shower tray with the rest of the solution until it's completely clean.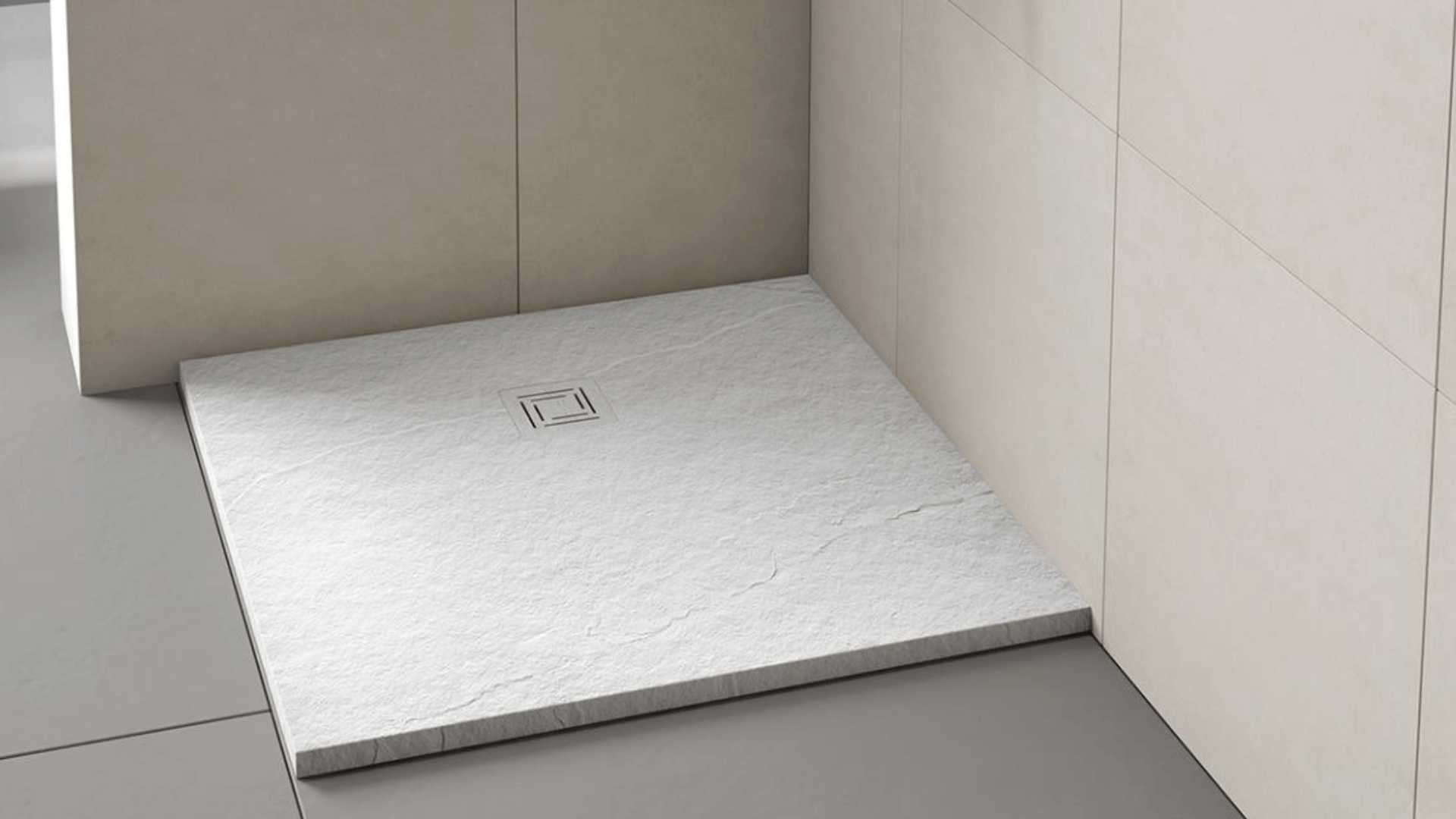 How to clean mould on your shower tray
A buildup of mould in a shower is a very common problem to have. Although it's very important to clean mould away to keep good levels of bathroom hygiene. Commonly found household products can make for some of the most effective cleaning methods as seen below:
In a bottle, combine 1/4 cup of warm water with 3/4 cup of white vinegar and 3 tablespoons of baking soda. Stir quickly so the ingredients mix together.
Now pour the solution straight onto the stains and allow it to sit for 30 minutes.
After the 30 minutes are up, scrub the mould stains with a sponge or soft toothbrush and rinse thoroughly with warm water.
Lastly, open your window (or bathroom door if there is no window) to allow the shower tray to air dry.
If, after cleaning the area, mould is still visible on the walls of your bathroom, shower or bath, it could be a sign that the room isn't well ventilated. That's why it's important to keep your bathroom ventilated on a daily basis to avoid damp and mould.
The reason for this is that the air inside your bathroom condenses when showering. If you don't get rid of the condensation after you're done showering, it can build up on the ceiling and walls, on your bathroom appliances and on other objects. This can cause mould, fungus and bacteria to form when the extra moisture is allowed time to settle for too long.
How to remove rust on your shower tray
You've likely tried scrubbing away rust stains on your shower tray to no end! This type of stain can be particularly hard to remove by hand so the method for how to clean a shower tray with rust stains requires another domestic concoction for the best results:
Make sure to fully ventilate the space before doing anything. Pour a generous amount of either lemon juice or white vinegar onto the rust stains, ensuring they are fully covered and let it sit for a minimum of two hours.
When you are happy to move on after the minimum two hours soak time, using the shower head, rinse the lemon juice or vinegar down the drain and check the stain. For lighter rust, this by itself may be enough to completely remove the stain. Although if this hasn't proven fully effective, continue with the next steps.
Create this mixture: Using your microwave, heat about 100ml of white vinegar until it's hot. Then, add approximately 30ml of lemon juice to a jug with the vinegar. Add around 1/2 cup of baking soda and mix until the paste is thick. If your paste is too runny, add more baking soda gradually until it's like porridge.
Apply a generous amount of the paste to the rusted areas of the shower tray, cover with a towel and let it sit for 2 to 3 hours.
Take off the towel and use the shower head to rinse off the paste. The rust should have now completely come off (if needed, reuse these steps for very tough stains).
While this is an effective method for removing rust, routinely wiping down the shower tray is one of the best ways to prevent rust buildup over time.
With beautiful craftsmanship and a variety of designs such as walk-in shower trays, quadrant shower trays and rectangular shower trays, find your perfect bathroom option with Merlyn. View our range of premium Merlyn shower trays and accessories here.