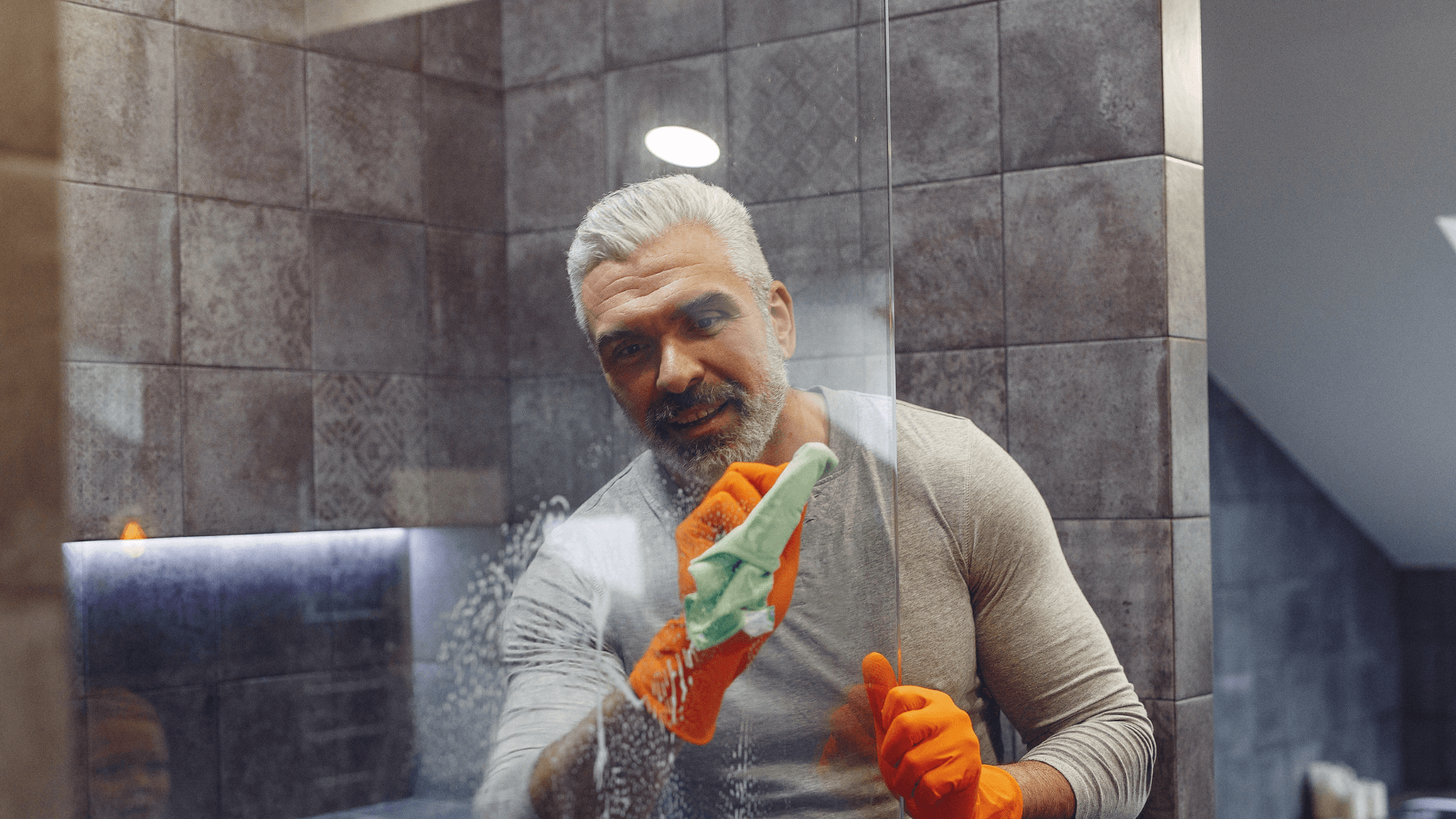 Cleaning your shower enclosure may not be an enjoyable task. However, it is one of those household chores that has to be done. By regularly cleaning and maintaining your shower, the build-up of grime, excess soap and limescale can be reduced.
Cleaning a shower screen or shower door doesn't take long, and only needs to be done once a week to prevent the buildup of grime, soap scum and limescale. If the build-up is not removed, then etching and permanent damage could be caused.
Whilst regular cleaning can reduce build-up, etching cannot be reversed, so the best prevention is to wipe down the glass after each shower with a squeegee or microfibre cloth. Whether you have a quadrant shower enclosure, walk-in shower enclosure or another variation, this guide is applicable to a range of different bathroom shower enclosures.
So, if you're looking for the best way to clean your glass shower screen, just follow our tips and tricks and you'll have a sparkling clean enclosure in no time!
What are the best products to clean your shower enclosure with?
There are many bathroom cleaning products available on supermarket shelves. We do not recommend using any of these as we cannot guarantee they are not corrosive.
We advise using:
Soapy water (fairy liquid)
Soft cloths and sponges
How do I clean my shower glass?
For cleaning soap scum and limescale, try using the Magic Eraser sponge. You can even use dryer sheets by simply wetting them and scrubbing.
Mixing together baking soda and water creates a great and effective alternative to cleaning products. Depending on how much you may need, the measurements can vary.
To get started, mix half a cup of baking soda with water until this forms a thick paste. After making the paste, you should use a soft, non-abrasive sponge, to carefully clean the shower glass and then rinse with vinegar.
If you're dealing with significant soap scum, you can boil some undiluted white vinegar to help remove it. Soak your sponge or microfibre cloth in the vinegar, then use it to clean the shower glass.
Don't worry, after you've used the shower once or twice the vinegar smell will disappear.
If you're looking for a way to significantly reduce the amount of soap scum on your shower glass, avoid using bar soap. The talc in bar soap is what produces the most build-up. Instead, consider changing to a liquid soap or shower gel.
Rinse down after with cold water.
Best tools for cleaning shower glass
Whether you've opted for a shop-bought solution or a homemade alternative when cleaning your shower cubicle, the glass will require a final rinse.
However, this may be a problem for those who live in a 'hard-water' area, as a rinse will leave limescale and watermarks on the shower screen once dried. Using a squeegee will help to prevent those unwanted markings.
If you live in an area with hard water, a water softener machine may be beneficial. Investing in a water softener could be beneficial, as it can protect pipes and appliances from damage, as well as make the water less harsh on your hair and skin.
Squeegees are excellent at effortlessly preventing streaks, water marks and limescale on shower doors and shower screens. You can also use them in a wet room to help shift water towards the drain, enabling the space to dry faster. They can be also ideal for wiping down baths and tiles!
Microfibre cloths are a great way to keep your shower glass clean. They can keep the buildup of residue from forming on shower doors and allow you to clean those hard to reach spots, such as underneath handles and tight corners. Make sure to wring out the cloth after use, let it dry, and wash it at least once a week.
How to clean your shower door tracks
Now you've cleaned the shower doors, the shower door track will also need cleaning. Shower door tracks can easily collect soap residue and grime, and the build-up of limescale from hard water can make it difficult to slide the door open if you have sliding doors.
It is recommended to clean the shower door tracks as frequently as you clean the rest of your shower. Follow these steps for the best way to clean your shower door tracks:
Firstly, apply vinegar into the shower door track, and let it sit for 3-5 minutes.
Then gently scrub away any grime and soap scum with an old toothbrush and rinse with clean water before drying the area with a soft cloth.
It might take a few attempts if the track hasn't recently been thoroughly cleaned.
If you have a steamer, you can also use this to clean your shower door tracks by following these steps:
Use the steamer on the area to loosen the dirt and grime on the tracks.
Using a microfibre cloth, wipe away any residue.
If needed, repeat the process until the build-up has been completely cleared.
How to clean a shower tray and other fixtures
First, begin by making your solution. Mix one tbsp of baking soda with one of white vinegar and apply it to your cloth or sponge.
When you have done this, put on some gloves and then using the mixture, give your shower tray, taps and fixtures a good, thorough scrub. By fixtures, this means anything from your plug hole to your shower head, as well as your shower door handles and hinges.
Once you have finished scrubbing, use the shower head to rinse the shower tray and fixtures with hot water.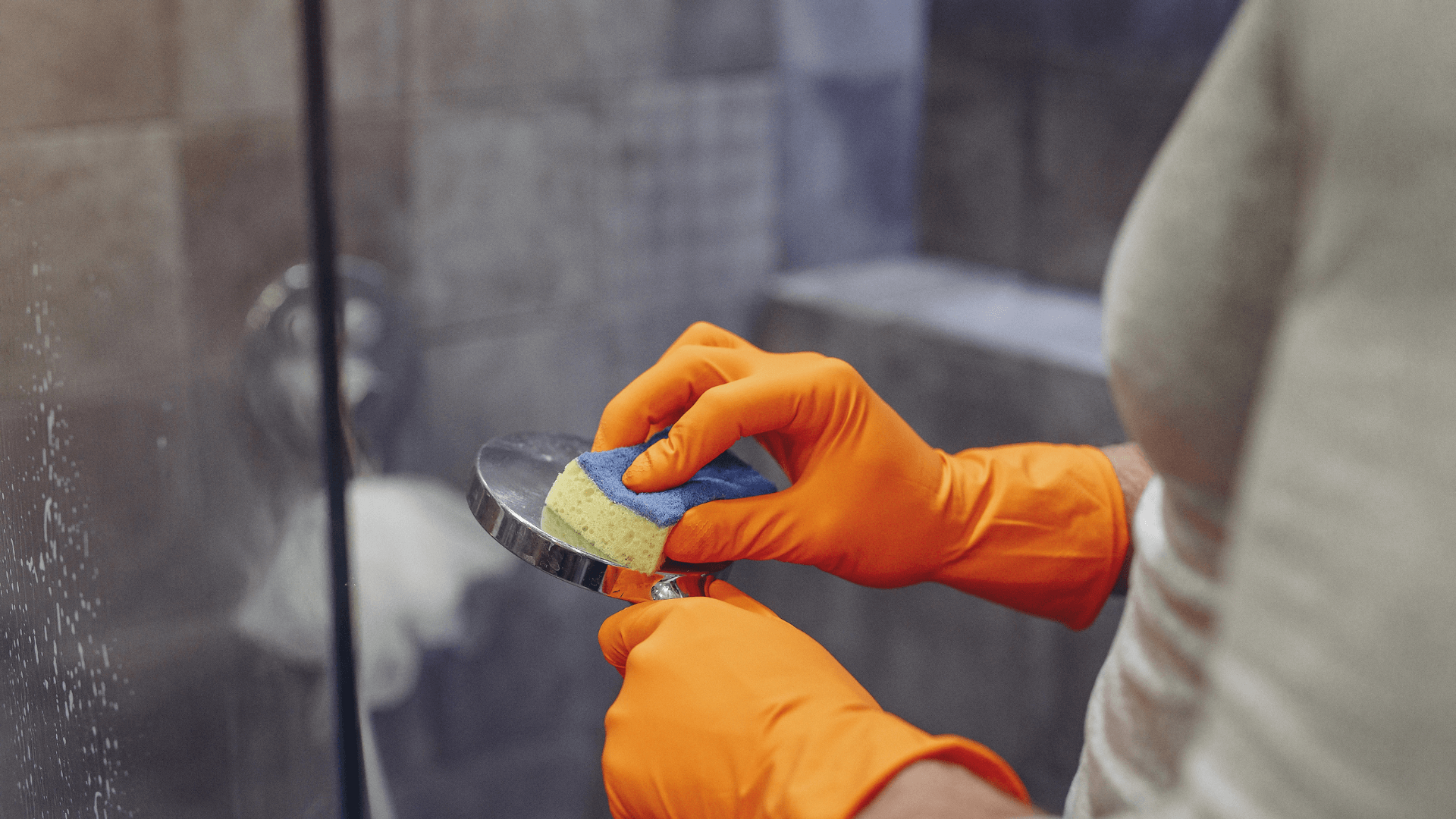 How to prevent watermarks and limescale

We all know how frustrating it is to clean your bathroom and find watermarks or limescale the next day. Here are two easy steps you can take to prevent this from happening.
Regular cleaning

One of the easiest and most cost-effective ways to prevent watermarks from reappearing on your shower glass doors is using a squeegee when cleaning. Some squeegees even come with a holder that sits on the shower wall, so you can use them every time you take a shower. After a shower, squeegee all the moisture out of your shower enclosure or shower screen to keep watermarks from reappearing.
Good ventilation

To help your shower screen evaporate quickly, make sure your bathroom is well-ventilated. When water sits on the shower screen for an extended period of time, droplet marks are more likely to form.
If your bathroom is poorly ventilated, some of the measures you can take include using a dehumidifier, wiping down all bathroom surfaces after a shower, or fitting an extractor fan. If you have space to utilise in your bathroom, you could purchase bathroom-friendly plants which absorb moisture.
After following the steps in this guide, we hope you are now equipped with all the knowledge you need to effectively clean your shower enclosure! By following these tips on a regular basis, your shower closure will look newer for longer.
If you are looking for an upgrade and searching for a new enclosure shower, see our wide selection of bathroom shower enclosures, ranging from quadrant shower enclosures to square shower enclosures. We have an option suitable for every bathroom.