Take advantage of the quiet January weekends and tackle some long awaited home projects.
In the Post Christmas wave of Omnicron restrictions we have again found ourselves with lots of extra free time. There isn't a better way to take advantage of the situation than to tackle some long waited home projects. After all, while it's difficult not to feel overwhelmed by stress and uncertainty, it's important to remember our homes are the one thing we have control over, and the bathroom is one of the best places to start.
Think about it. Your bathroom tends to be one of the smaller rooms in your home, making it reasonably cheap to redecorate. But it's also a room that can quickly look tired, given how many people use it so, here are a few ideas for refreshing a dull, lifeless bathroom and turning it into a space that sets you up for the day.
Add a pop of pastels
A lick of paint can transform the look and feel of your bathroom. For example, if your bathroom lacks a window it may feel dark and dingy. One way to brighten up the space is to paint in lighter shades. Traditionally, people opt for colours like blue, white or grey. But you can afford to be more adventurous while still keeping the colours neutral.
Sherbety shades add a hedonistic glamour to your bathroom. It's a look that recalls 1930s Miami or pool parties in Ibiza. The trick is to combine the pastel shade with a contrasting metallic. Try mixing golden brassware with a blush or nude pink, for a look that's soft and warm. Or, go for a powder blue and accessorise with tumbling plants and brassware for a cool, restful look.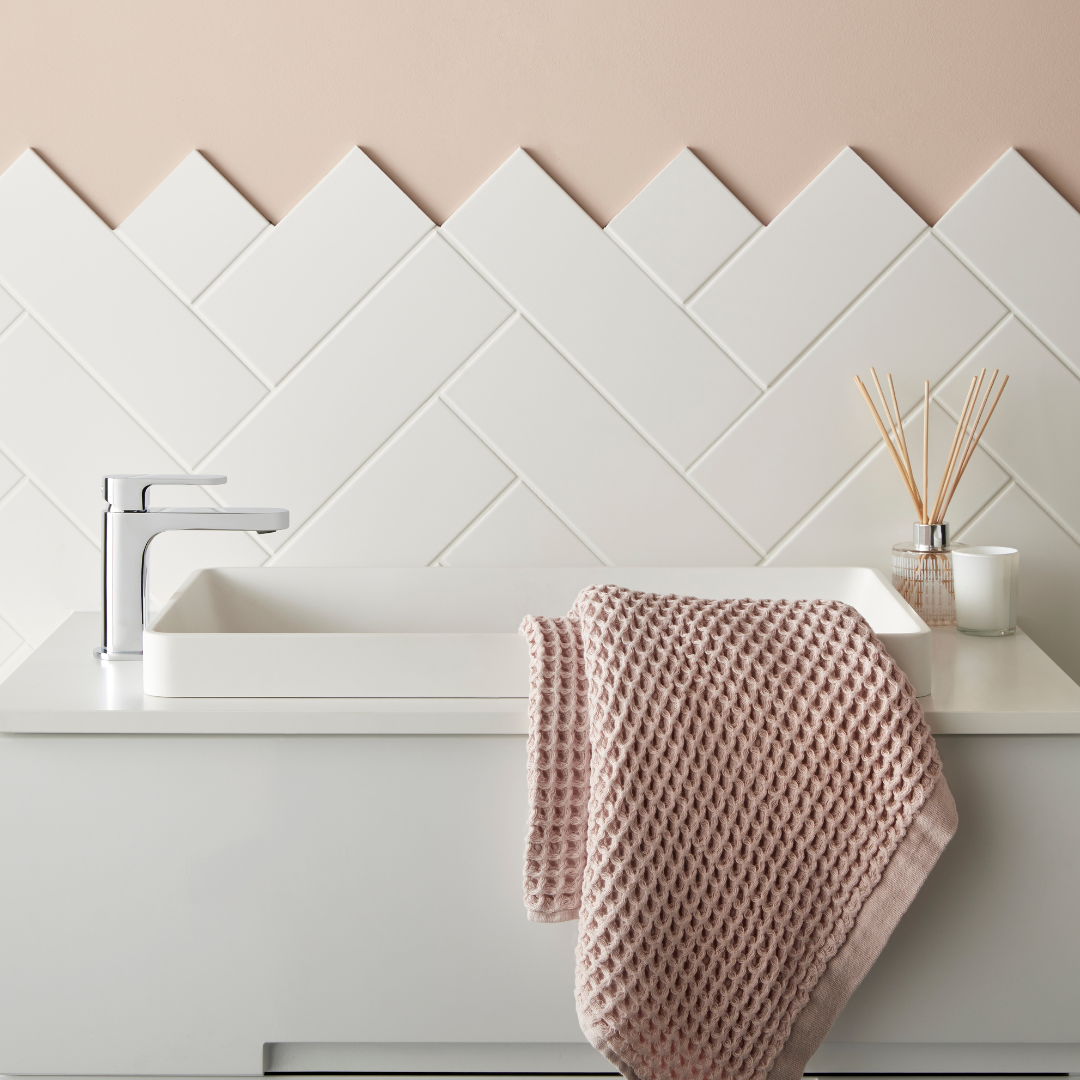 Plant some well-placed greenery
If you think about it, your bathroom is a sanctuary of sorts. It's a space for cleansing, but also for reflecting. It's tempting to go for a look that's fresh and white, but that can leave your space feeling cold and clinical. What you want is a warm and inviting feel. Adding plants (even artificial ones) is one way to make your bathroom feel like a lush hideaway.
If floor space is at a premium, one clever trick is to hang your greenery up high. You could attach some hooks to the ceiling, or above the shower enclosure, and hook up a hanging basket or terrarium. That way, when you take a shower in the morning, you'll feel like you're at one with nature.
Go bold in the shower
If you haven't got the means to completely make over your bathroom, why not opt for a statement shower instead? Simply paint one wall inside the shower enclosure in a bold pattern or print. It's a less expensive way to add impact to your bathroom, but still gives you a bold look you can enjoy each morning. Or, look up for inspiration and consider painting the ceiling. The trick here is to choose a deeper shade of the colour you already have on the walls. Not only does it give you an unusual and striking look, it provides the illusion of higher ceilings too.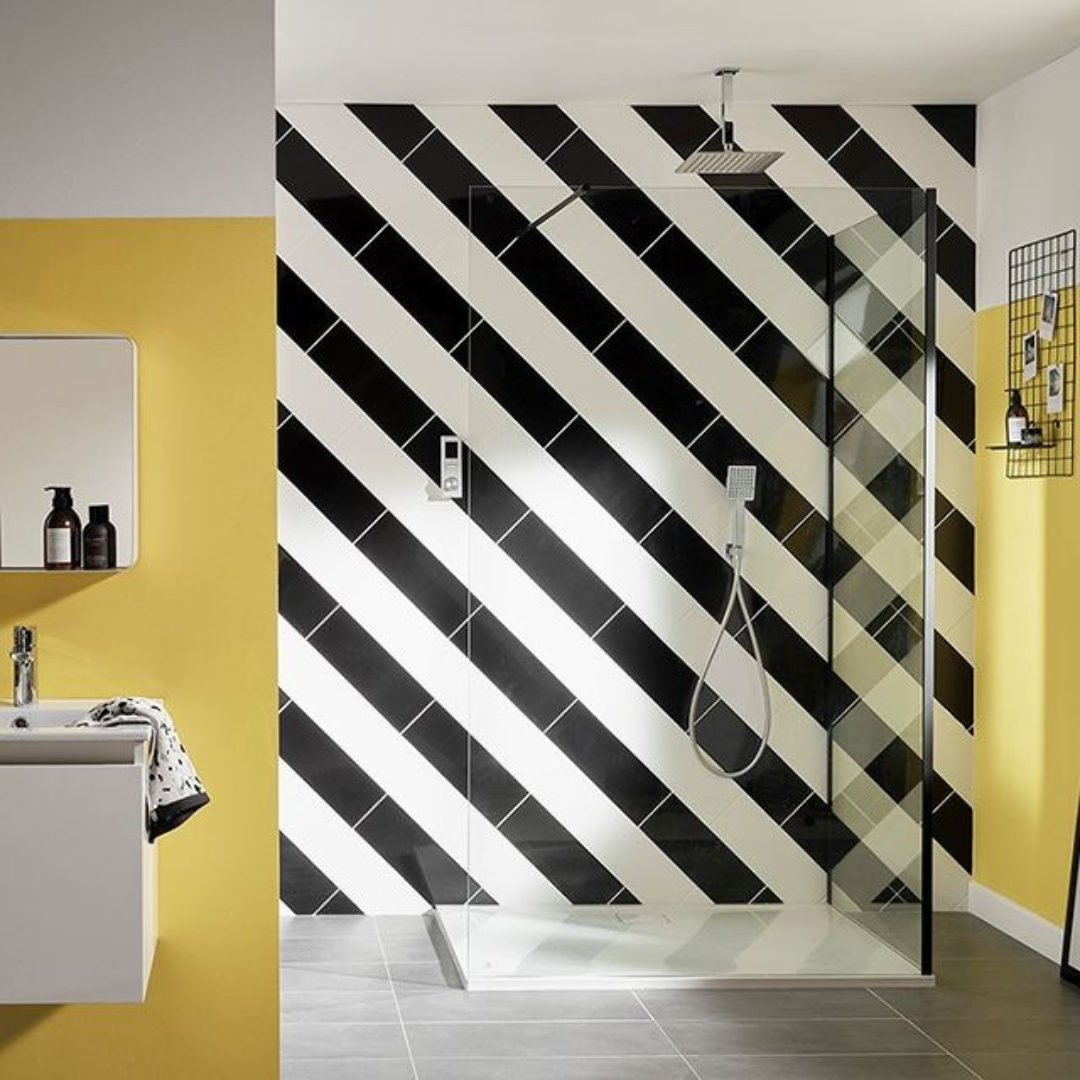 Tile it to style it
Where paint lets you add colour to your bathroom, tiles let you add pattern and print too. You don't have to tile the whole room – even a feature wall can give you the desired effect. Glass tiles, for example, add a subtle glow to your bathroom, a feeling of soft sunlight all year round. Or you could go for contrasting colours. Pairing white with duck egg is a look that's been very popular over the years and really gives your bathroom a touch of spring. Or how about a more nostalgic look? Metro tiles take inspiration from the Parisian underground, lending your bathroom a timeless elegance that's just right for spring.
Go for a completely new shower enclosure
Of course, for the ultimate bathroom makeover, we'd recommend a new MERLYN shower enclosure. Turning your bathroom into a shower room is smart way to open up a small space. Remove the bath, replace it with a shower enclosure and you've got a space that feels stylish and spacious rather than tired and cramped.
One idea is to tile the shower enclosure, then continue the theme as a border round the bathroom. Then even if your shower enclosure is quite narrow, you can make the space feel roomier.
Remember, a shower enclosure may be narrower than a full-size bath, but it's wider than a standard shower cubicle. So, you get more room to enjoy your morning shower, and a bathroom that looks and feels much less cluttered.
We have a shower enclosure for pretty well any size bathroom you can think of. In fact, we can create bespoke shower enclosures to fit even the trickiest shaped bathrooms. Take a look at our latest range to find out more.
Call UK FREEPHONE: 0808 101 1429
Call Ireland: 056 779 1555
Email: sales@merlyn.ie