As the year draws to a close and more time is spent at home, many homeowners are taking the opportunity to evaluate their bathroom design. They are thinking about what's really important and choosing a style that best encapsulates their needs and desires.
To help inspire homeowners and designers alike, we've taken a look at the latest trends dominating bathroom design. From industrial to spa-like, there's a style to suit everyone.
Sanctuaries for self-care
In response to the pandemic, and the increased focus on wellbeing, the bathroom's requirements have extended further than ever before. Not only does it need to be functional, but it must also serve as a place to escape and unwind for a moment of tranquility.
The trend for wellness-centred design has been reflected in the greater consumer appetite for spa-like spaces or 'luxurious cleansing' with little touches of opulence. Whether that be thick glass panelling, smooth sliding doors or innovative halo lighting, adding high quality products can elevate a room to 'wow'. And, for some, wellbeing means a sense of security. Finishing touches such as revo, our versatile handrail and storage solution, offer premium support that allows for independence and encourages time for self-care.
Statement style with industrial finishes
The rise in popularity of art deco and industrialist interiors has led to a resurgence in the use of stripped back architectural details such as framed windows and doors throughout the home. This trend has translated into bathroom design in the form of concrete and metals, exposed pipes and a monochromatic colour palette.
Statement black grid and framed shower enclosures and screens such as MERLYN Black Squared shower wall have proven to be popular with both clients and designers. The sleek, bold design complements these style choices and offers a contemporary aesthetic, whilst remaining highly functional.
For a quick refresh of a dated bathroom, pair a black frame with white or marble-effect tiles. Or, for a more minimalist approach, opt for a single-framed screen or bath screen such as the MERLYN Black bath screen with matching fixtures and fittings.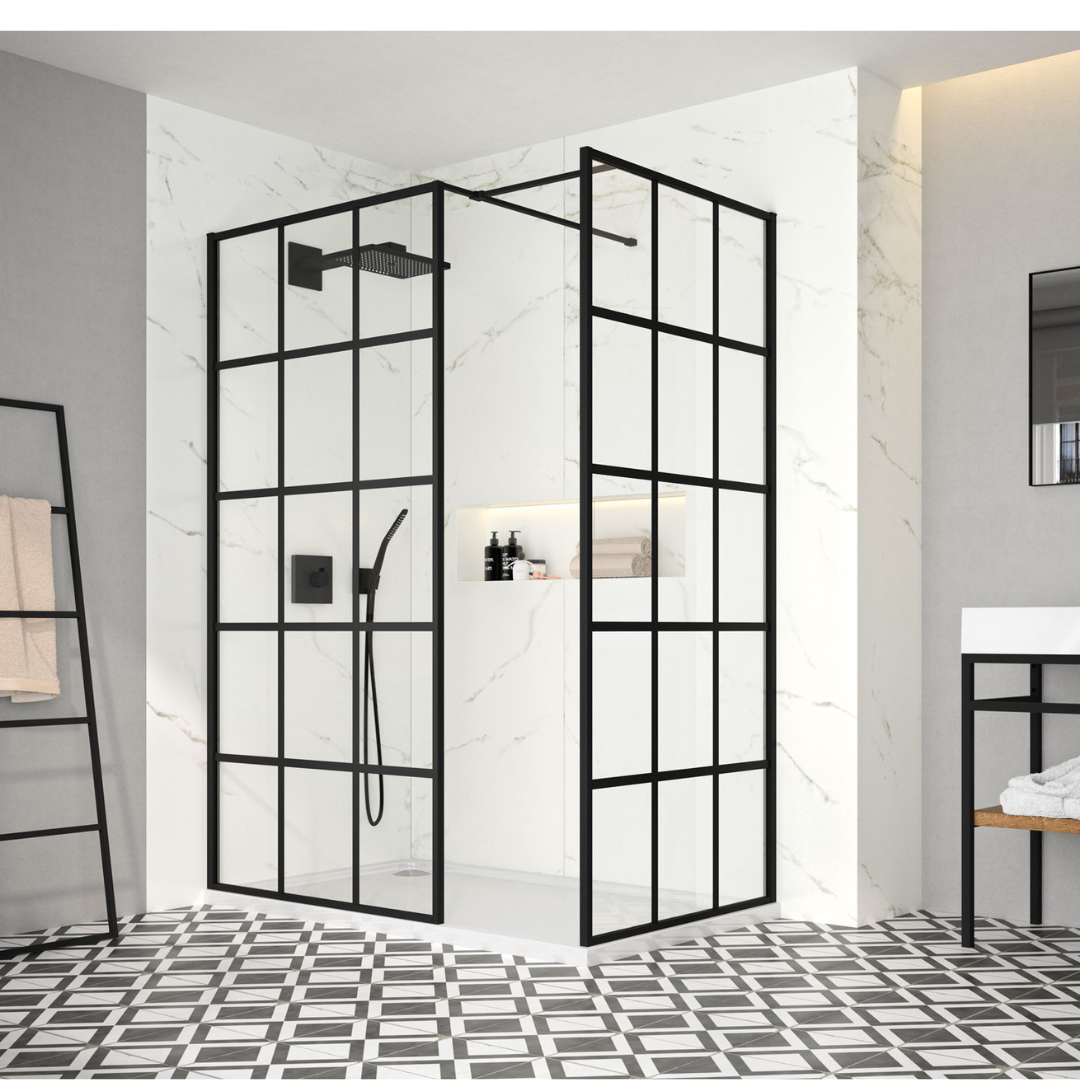 Creative flair through colourful design
Whilst monochromatic and industrial styles remain strong favourites, we're seeing an increasing move towards the use of brighter tones as consumers become more experimental and explore their creative side. Colours such as brushed brass add a luxurious touch to the space, blending with traditional designs as well as more contemporary colour forms such as navy and dusty pink.
Colour is a great way to bring the room together and provide a common thread throughout a space. Creating colour stories by matching fixtures and fittings from shower door hinges, taps and other brassware and accessories, adds an element of continuity for a premium result. And with the swatches for the Arysto Colour collection, designers can have absolute confidence that shower frames and fittings will match.
Feeling inspired to incorporate these latest trends into your own bathroom? Visit your local MERLYN stockist to see the collections and start your bathroom transformation journey.