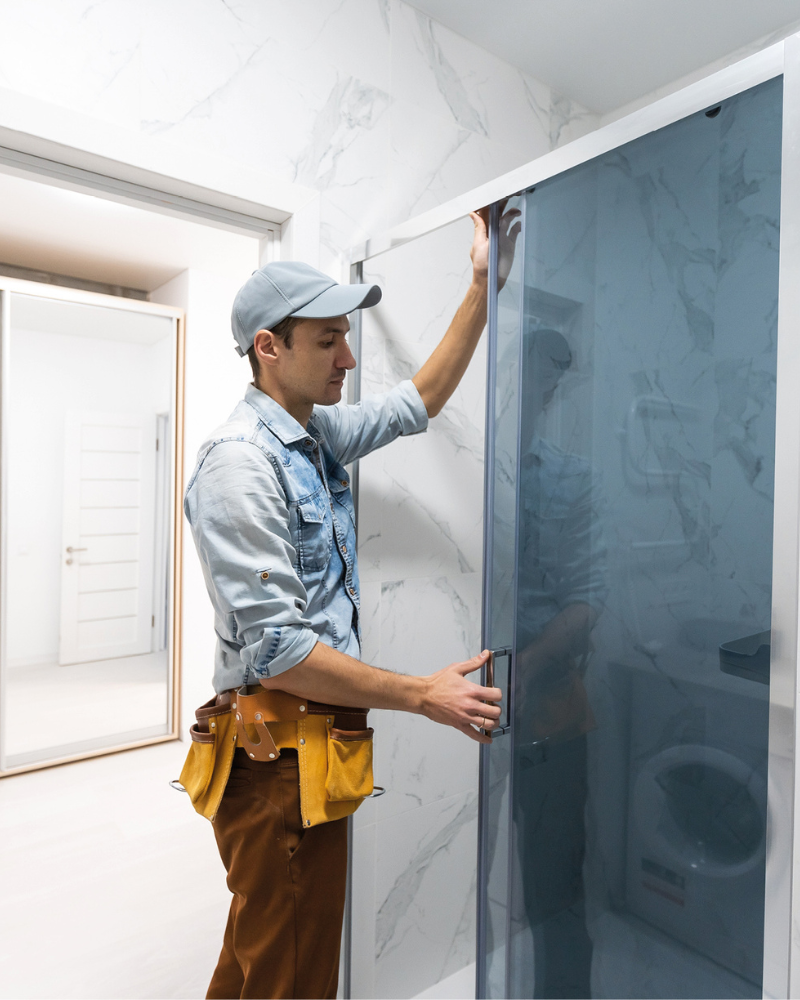 How to fit a shower enclosure
Whether you're renovating a large or small ensuite, a shower enclosure is a great addition to your bathroom. The right enclosure can help you to utilise your bathroom space efficiently and add a luxurious finishing touch.
To ensure the enclosure is installed accurately and to a high standard, you should hire a qualified professional plumber. If you are no stranger to DIY and have good knowledge and prior experience, you may be able to fit the bathroom enclosure yourself with the right tools.
This step-by-step guide covers all the stages and advice required to install a shower enclosure in your bathroom.
What is a shower enclosure?
A shower enclosure or shower cubicle is the panelling that encloses your shower area, preventing water from splashing out into your bathroom. They usually come with one or two doors for access. Walk-in shower enclosures are becoming an increasingly popular choice, offering a modern touch to your bathroom.
You can enclose your shower in a number of different ways such as with glass panels, doors that slide, pivot, or fold up, or even the above-mentioned walk-in alternatives.
What are the different types of bathroom shower enclosures?
Here at Merlyn Showering, we offer a variety of enclosure showers, in a multitude of different designs, shapes and sizes. Our range features a great selection of high-quality enclosures, designed to be both practical and stylish.
Choosing an appropriate shower enclosure for your bathroom is essential. Make sure to take into consideration the size of the room, as well as the features and look you desire. Check there are no radiators or vanities that might hinder a shower door opening.
Before we move onto the steps of how to fit an enclosure, here's a quick look at some of the most common enclosure types:
Sliding Enclosures: Sliding shower door enclosures are ideal for saving space in any bathroom, as well as being stylish and easy to use, making getting in and out of the shower effortless. One of the most popular uses of sliding doors is for recessed enclosures. Their door panel slides within the enclosure frame, avoiding any clearance issues with an outward swinging door.
Walk-In Shower Enclosures: An increasingly popular choice for contemporary bathrooms. This is the most luxurious, and often suitable option for wet rooms or larger bathrooms. As the name suggests, these enclosures feature no door and act as a great focal point within your bathroom.
Quadrant Shower Enclosures: This type of enclosure allows for easy entry, featuring sliding doors, quadrant shower enclosures can perfectly combine style and functionality. This type of enclosure is one of the most popular fittings and is built neatly into a corner, featuring a curved front to maximise bathroom space.
Pivot Shower Door Enclosures: This enclosure type features a door that opens outwards, which differs from other options, and is connected on two points at the top and bottom of the frame.
Bi-Fold Shower Door Enclosures: The door on this enclosure is split in two and folds into itself to make space for users to easily enter and exit the shower.
Before you get started
Shower enclosures typically feature a shower tray where the enclosure will sit. Before installing your shower enclosure, check that the shower base is fully supported, completely level and sealed as per the installation instructions. It's good practice to run a quick water test using a jug of water to make sure everything is working as it should.
Following this, any tiling will then usually be done first before the shower enclosure is fitted.­
After your shower enclosure has been delivered, make sure to unpack and inspect the products you have received. Before installing the enclosure, it's better to find any damage or faults before it's fitted.
Check your final wall-to-wall tile measurement is within your shower enclosure adjustment range noted on the website.
A second person may be required at certain points.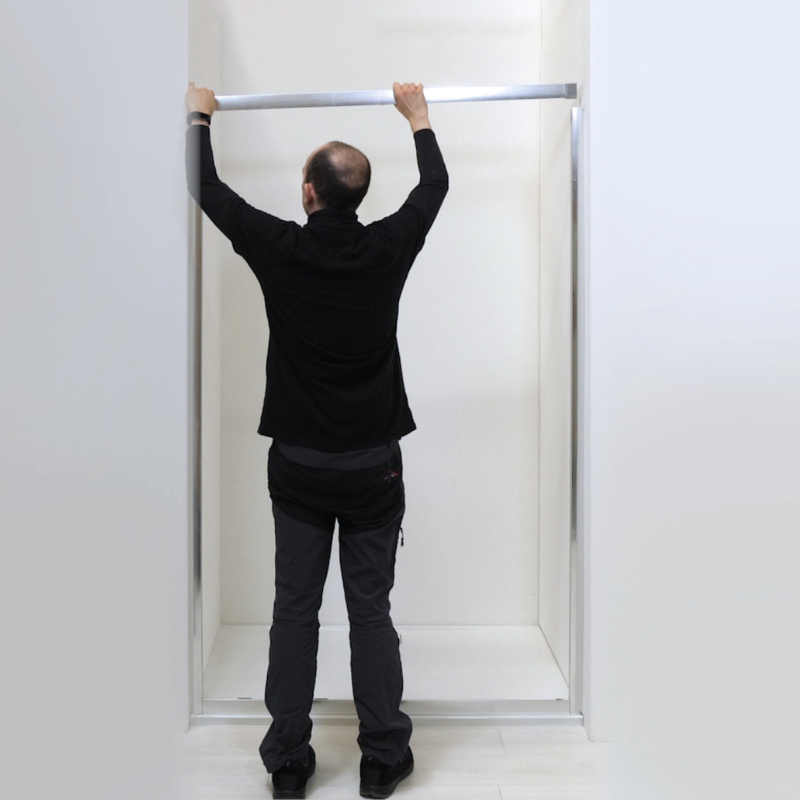 Installing a Shower Enclosure
Now everything has been checked, you are ready to begin fitting your shower enclosure. Firstly, you will need to fit your shower tray, as this is the foundation of the enclosure. Make sure the joint between the tiles and tray has been fully sealed before fitting the enclosure.
It is important you fit your shower tray correctly and it is perfectly level and fully supported in all areas. Here are our step-by-step instructions on how to fit a shower tray.
You'll need these tools and products to fit your shower tray:
Shower tray
Shower waste
Spirit level
Jigsaw
Bucket
Neutral cure, anti-bacterial silicone sealant
Cement (a plasticiser can also be added)
Building sand

How to fit a shower tray
Step 1 - Position your shower tray and draw around the edges of the tray onto the floor to create a reference template. Mark the position of the trap below the waste hole on your tray.
Step 2 - Next you will need to create a hole in the floor using a jigsaw, ensuring the size is big enough to fit the shower trap through, which will be connected to the waste pipe from the soil stack.
Step 3 - Unscrew the top flange from the main waste body making sure the large rubber O-ring remains on the waste body. This O-ring will seal the waste to the underside of the shower tray. Once the waste has been attached to the waste pipe as shown in the instructions prop up the waste so that it is flush with the floor level.
Step 4 – Make sure the area you are bedding the tray in is free of movement and that it has been prepared using a sheet of marine ply or a similarly treated timber. Do not attempt to bed the tray on existing floorboards as they will allow too much movement causing the bed to crack.
Step 5 – To prepare the bedding, mix some mortar, sand and water in a bucket to create a semi-dry consistency (you will need four parts building sand to one part cement). Then, apply a layer to the whole tray area as marked previously, ideally with a depth of around 25mm - 30mm.
Step 6 - Place the shower tray on top of the mortar and press it into position. Use your spirit level to check that the shower tray is level and that the tray waste hole is aligned with the waste below.
Check this from a few different angles to ensure accuracy and then remove the excess mortar that has been pushed out from around the tray edges.
Step 7 – You can now screw the waste flange into the waste body and tighten it to create a good seal.
Step 8 – It is best practice to run a quick water test while the mortar is still wet to make sure the tray is performing as it should. Do not stand on the tray for this test as you will upset the level of the tray. When standing outside the tray area, pour water in all areas to make sure it runs to the waste.
Step 9 - Leave the concrete to dry for a minimum of 24 hours before standing on the shower tray or fitting the shower enclosure.
Step 10 - Using your sealant gun and neutral cure anti-bacterial silicone sealant, seal all around the edges of the tray as per the instructions.
Now this is complete, you are ready to make a start on fitting your shower enclosure!
You'll need these tools and products to fit your enclosure:
Electric drill
Screwdriver
Silicon sealant gun
Spirit level
Pencil
Rawl plugs (provided with shower)
Fixings (provided with shower)
A step-by-step guide to fitting a shower enclosure
Step 1 - Start by lining up the wall profile on the wall to determine the right placement – this is where you will mount the enclosure.
To make sure they are vertical, use the spirit level and mark with a pencil the positions you plan to drill so that you have a reference point.
Step 2 - Use your electric drill to drill the holes you just designated, being cautious not to drill into any piping or wiring. Use a masonry bit when drilling into a tiled wall to prevent the tiles from shattering.
Step 3 - Insert the rawl plugs into the pre-drilled holes in the wall, making sure that the plugs are firmly in place. Then, using a screwdriver, carefully screw the channels onto the wall, making sure they are securely tightened.
Step 4 - Choose which side you want the door to be on, then insert the side panel (if applicable) into the appropriate channel.
Secure the panel in place as explained in the manufacturer guidelines. You may need some help from another individual to do this and the following step.
Step 5 - Now that both panels are secured on the tray, make sure they are fixed together at the corner, following the instructions you have to hand.
Step 6 - Screw both panels firmly into place with your screwdriver and provided fixings.
Step 7 - Refer to the manufacturer's instructions and check if there are any further requirements, like door handles or PVC seals, and make sure you install those at this point.
Step 8 - In order to prevent any water leakage from the shower enclosure, use silicone sealant and a sealant gun to seal as per the manufacturer's guidelines.
After applying the silicone with a sealant gun, wet your finger and use it to press the sealant into the cracks and take away any excess. After filling in all the gaps, wait for a minimum of 24 hours for it to completely dry before use.
A transparent or white silicone sealant is recommended for a white shower tray, but if the tray and frame are both white, then a white-coloured sealant is suitable.
If you've followed each step correctly, you should now have smoothly installed a shower enclosure, congratulations!
Here at MERLYN Showering, we offer an extensive range of options suitable for every bathroom. From bath shower enclosures to corner shower enclosures and much more.
You can explore our full range of Shower Enclosures here.