MERLYN marketing manager, Eileen Slattery spoke to KBB Review earlier this year at KBB 2022.
Q:
How have you kept up with the demand of the last two years and how are you facing this challenge?
A: Like most businesses, while we have faced many challenges, business continues to be very strong with a really encouraging start to the year.
The KBB industry has certainly seen an increase in demand for products in the last 24 months. As everyone has been at home and unable to spend their money on holidays or socialising, people have turned to home renovation. Demand for new bathrooms surged through the crisis, which has brought record years for many retailers.
The pandemic has brought many challenges particularly with stock shortages, at MERLYN we carry three months' worth of stock at any given time across four warehouses. We delivered 99% of orders on time and full, making MERLYN one of
the most reliable and trustworthy partners in
the industry.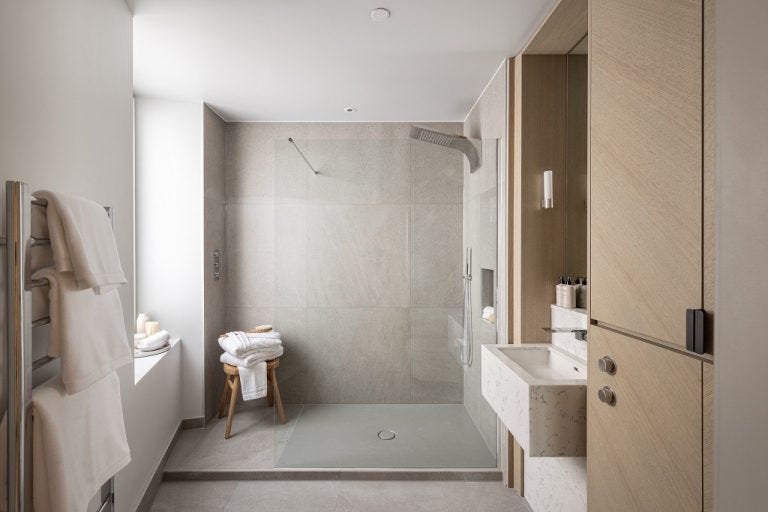 Q: How do you think the relationship between supplier and retailer is changing?
A: In what has been an incredibly difficult two years, the relationship between supplier and retailer has been key. Although showrooms have been closed for long spells during the pandemic, they have battled to do what they can for consumers, from private appointments to virtual tours. Throughout all the challenges, the dedication, commitment, and hard work of retailers has been truly commendable.
Retailers are now demanding more support from suppliers to improve sales and protect margins– and rightly so. The bond between supplier and retailer is integral to the ongoing success of suppliers within the bathroom market. Nothing beats seeing a bathroom feature up close – you can feel the quality at the touch of your hand. Retailers have extensive expertise in all things bathroom, and they help make the consumers' decision an easy one.
At Merlyn, we are constantly working to improve our offering to our retailers, to add value, make their day-to-day business easier and to future proof their business as much as possible.
---
Q: If you were opening a retail showroom in this market, what would your strategy be?
A: Showrooms must invest in their talent in order to compete. To inspire consumers, retailers must have their finger on the pulse of bathroom design, with highly trained and personable bathroom designers to impress consumers while delivering functional and innovative concepts.
High quality manufacturers are a must to guarantee success. Choose suppliers that you can depend on with a built-to-last promise, and a genuine commitment to service.
It comes as no surprise that touchless features have been noted as highly important in the bathroom space. The bathroom is a breeding ground for germs and society's boosted consciousness around this through the pandemic has led to a demand for touchless products.
Sustainability has also become a key factor in our industry. Whether sustainability is a conscious reason that our retailers choose us, or they are being fuelled by consumer interest in using sustainable suppliers, this will form a key part of supplier selection and promotion going forward. As millennials begin to climb the property ladder sustainability and saving the planet will become an even more important factor when considering materials and processes whilst buying bathrooms.
Merlyn is currently working with the Carbon Trust in the UK on their route to net zero. Carbon Trust are expert consultants on the route to Net Zero supporting and collaborating with organisations to drive net zero objectives. Net Zero encompasses the entire value chain of an organisation, which means a baseline footprint must be established for both operational and value chain emissions.
Q:
What consumer habits have you seen change over the last two years?
A: Bathrooms and kitchens have been used more than ever through the pandemic as people across the UK continue to work from home. Lockdown has, therefore, had a very positive effect on the industry. Consumers are embracing new routines designed for calm and escapism driven by a need for healing post pandemic.
Bathrooms are evolving and are becoming one of the most important rooms in the home not only to refresh but to take a breather and reset one's wellness. The shower enclosure is fast becoming the focal point of the bathroom. There is now an increased focus on the design and functionality of the space. Retailers must not ignore this.
Changing values, sentiments and emotions are driving new behaviours and lifestyles across the UK which is fuelling new opportunity for product development around the home as consumers build healing rituals into their lifestyles at every turn – from bathroom to bedroom.
The KBB industry must embrace this trend by allowing for the creation of wellness infused spaces and embedded healing properties into design as consumers long to "cocoon" from the stresses of everyday life.
---